ok. so I took my top end apart and my cylinder and piston are pretty rough. need new ones after 60 hours. long story short, we figured my tune is way off via the big bore manufacturer and the bazzaz rep. looks like someone completely winged it or something as its a very odd tune. isnt it?
ive got the bazzaz fuel controller which piggy backs onto the ecm through the harness and intercepts the signal to adjust the fueling. well mines way off somehow and it killed my motor.... "The mapping looks funny for a 520 kit. - 6% at idle is not correct and there is no way you need 60% more fuel at 100% throttle at any RPM with the 520 kit. To me it looks like you are too lean @ lower throttle openings and way too rich at larger throttle openings. The rich condition will wash the rings and cause the issues you had because of lubrication loss caused by excessive fueling."
now im not too sure where to go from here and am wondering what you guys are using? I assume a lot of stock tunes here?
anyone here run, or know anything about running a self mapping/auto adjusting tune like this:
http://www.bazzaz.net/index.php/fuel-control/z-afm-self-mapper
ive been told with the self adjusting tune that if the sensor dies, im screwed and that normally theyre only used for dyno tuning/fine tuning, then a narrow band sensor is thrown in for normal operation.
current tune: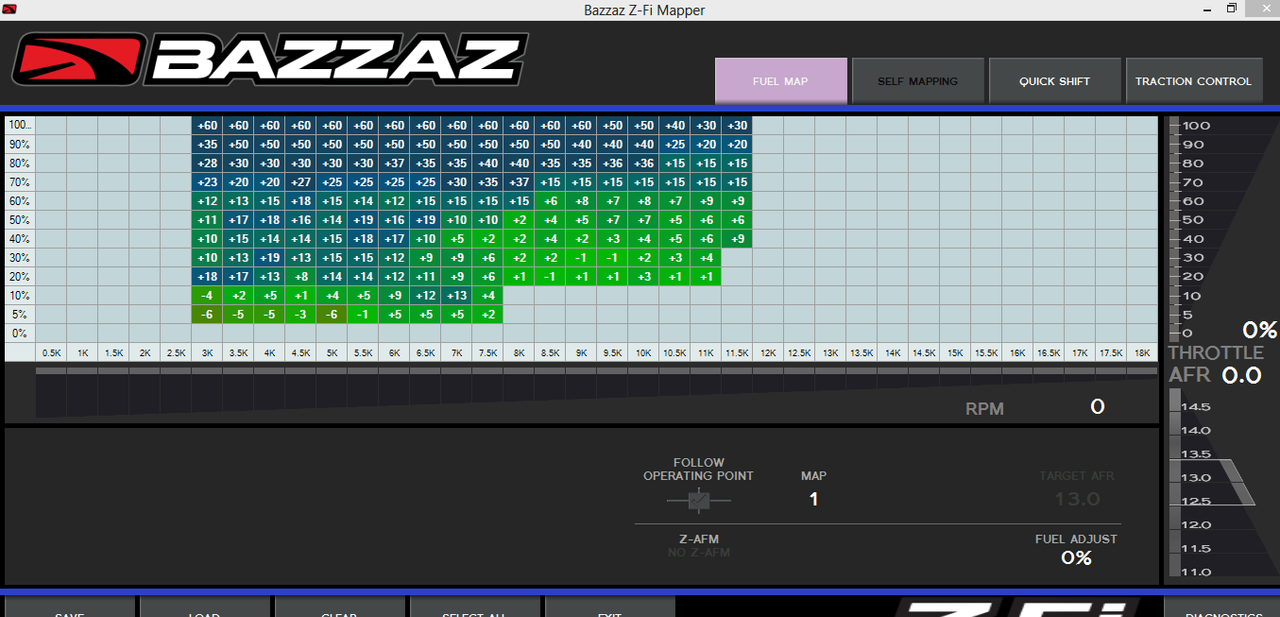 soooo. I have no idea where to go. auto tune would be nice, but doesnt seem reliable. manual tune seems hard to get dialed, especially with no rear wheel option available. what are you guys doing for tuning/fueling?
Last edited: