Well-known member
Staff member
Lifetime Membership
Premium Member
Dec 12, 2005
18,587
11,729
113
Its that time of the season.... 900 RMK's, Fusions, and Switchback
I am re-posting a lot of my old posts as I have been getting a lot of PM's about this stuff.
It must be getting to the time of year when people are building up their sleds for the season.
The Stock motor mounts, IMO, on the 900's are inadequate in many sleds at keeping the motor aligned under load. This causes a lot of belt heat (blown belts) and a lot of off axis side loading on the crankshaft (broken PTO stubs).
The 2006's motor mounts were firmed up a bit from the 2005's, but IMO not enough... they are still too soft and do not locate the engine under load well.
The stock mounts can tear and cause a lot of problems including loss of performance (the clutches can't work well in this state), belt eating (even with the 3211115 belt) and bad vibration.
The soft stock mounts require the torque stop to be snugged up to the motor which caused a "hammering effect" that was transmitted to the chassis and vibrated the heck out of everything.
Here is a post from the old forums.. COMPFUSION has a beautiful kit for a reasonable price...these are not mass produced parts from a big mfg. Each kit is built from quality materials (stainless, 2024 aluminum and high quality bolts)... and made to very tight tolerances.
http://www.snowest.com/fusetalk/sendprivatemessage.cfm?ProfileID=26465
COMPFUSION (Colin) is a great guy and very helpfull. His email is
compedgex@hotmail.com
Check out this post on the 4M here for more details
http://www.snowest.com/fusetalk/messageview.cfm?catid=89&threadid=264086
http://www.snowest.com/fusetalk/messageview.cfm?catid=89&threadid=297487
Helps keep this from happening
You dont want this!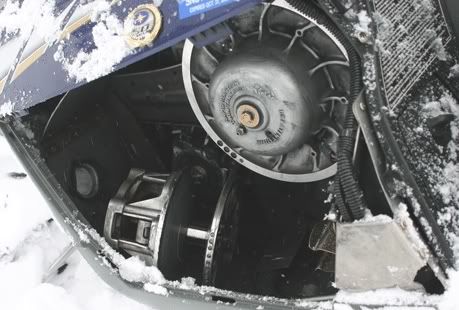 Example of Broken STOCK front mount
Stock Front Mount Layout on a 900 Liberty