05-23-2017, 03:22 PM
Currently: Husky Powered, Woof Woof

Join Date: Nov 2008

Location: Rigby, Idaho

Age: 56

Posts: 74,390

Thanks: 13,187

Thanked 16,301 Times in 7,806 Posts

2018 Ski-Doo Impressions
---
2018 Ski-Doo Impressions
https://snowest.com/2017/05/2018-ski...0-freeride-175
A few things stand out in Ski-Doo's 2018 lineup, and I rank them in this order:
Summit 175 track length
Freeride move to the Gen4 chassis and 850 engines.
Why is SHOT at the top of the list? As mountain riders, we start snowmobiles a lot more than you realize.
And when we do, it's usually immediately following digging yourself or someone out of a bad line choice.
On our media intro ride in Sicamous, B.C., in January, I started a sled 44 times in one day. Only once did I pull a rope––first thing in the morning.
From there on, all we had to do was climb onto the sled and push a magic button.
I'm sure everyone wants to interject right there and say "We've had electric start for years!"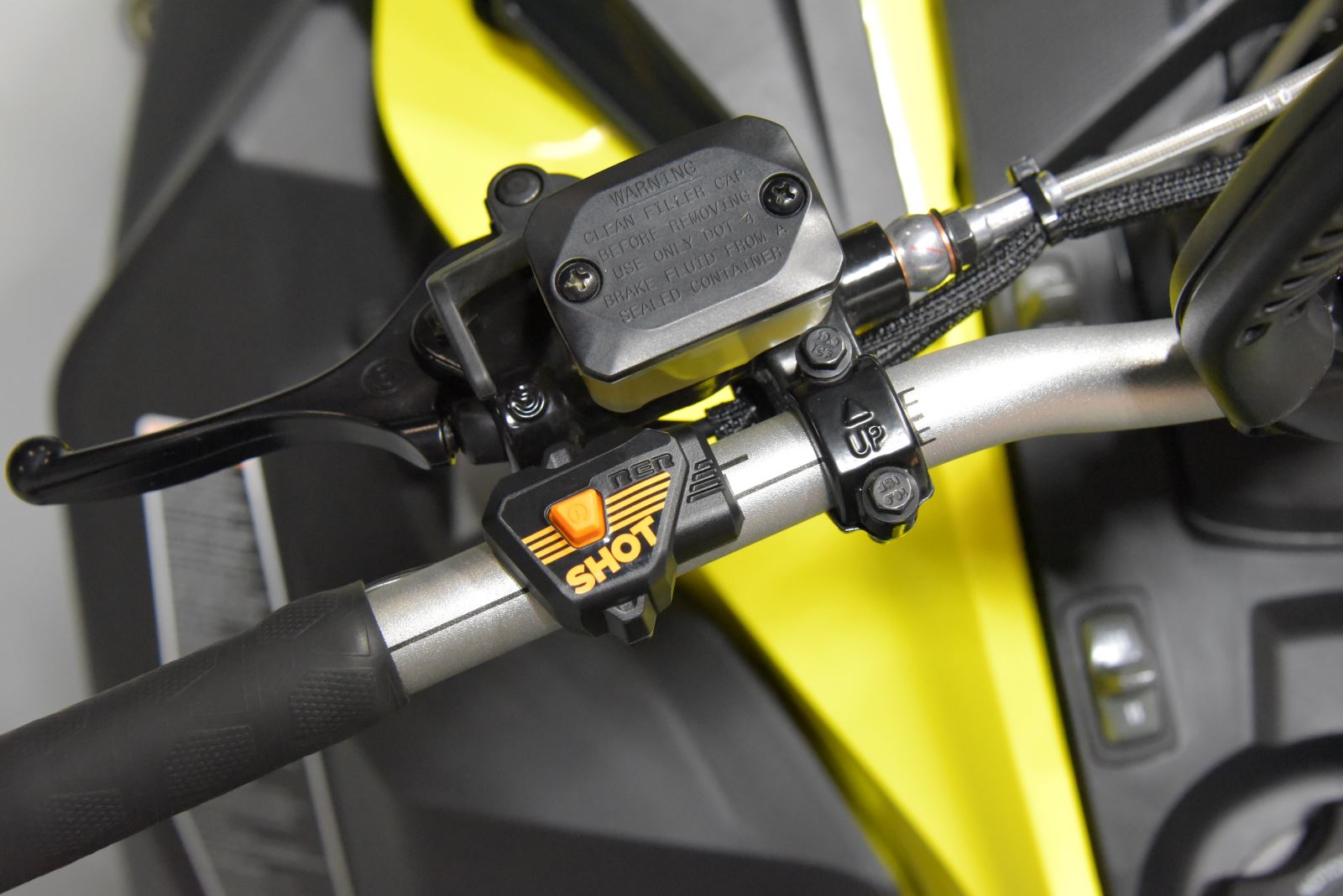 Sorry to burst your bubble, but electric start sucks. We've pushed manufacturers to shed pounds off sled for decades.
The mountain aftermarket industry is driven by weight savings. We invest thousands into cutting a pound here and a pound there.
So we're not about to go add on 20-plus pounds for conventional electric start. We've ridden mountain sleds with electric start.
They feel heavy and don't handle the same.
SHOT adds just 2 pounds to a machine.
That's a number that makes the convenience well worth it–
–especially when we're panting from rolling a sled out of a tree well and climbing back onto the running boards.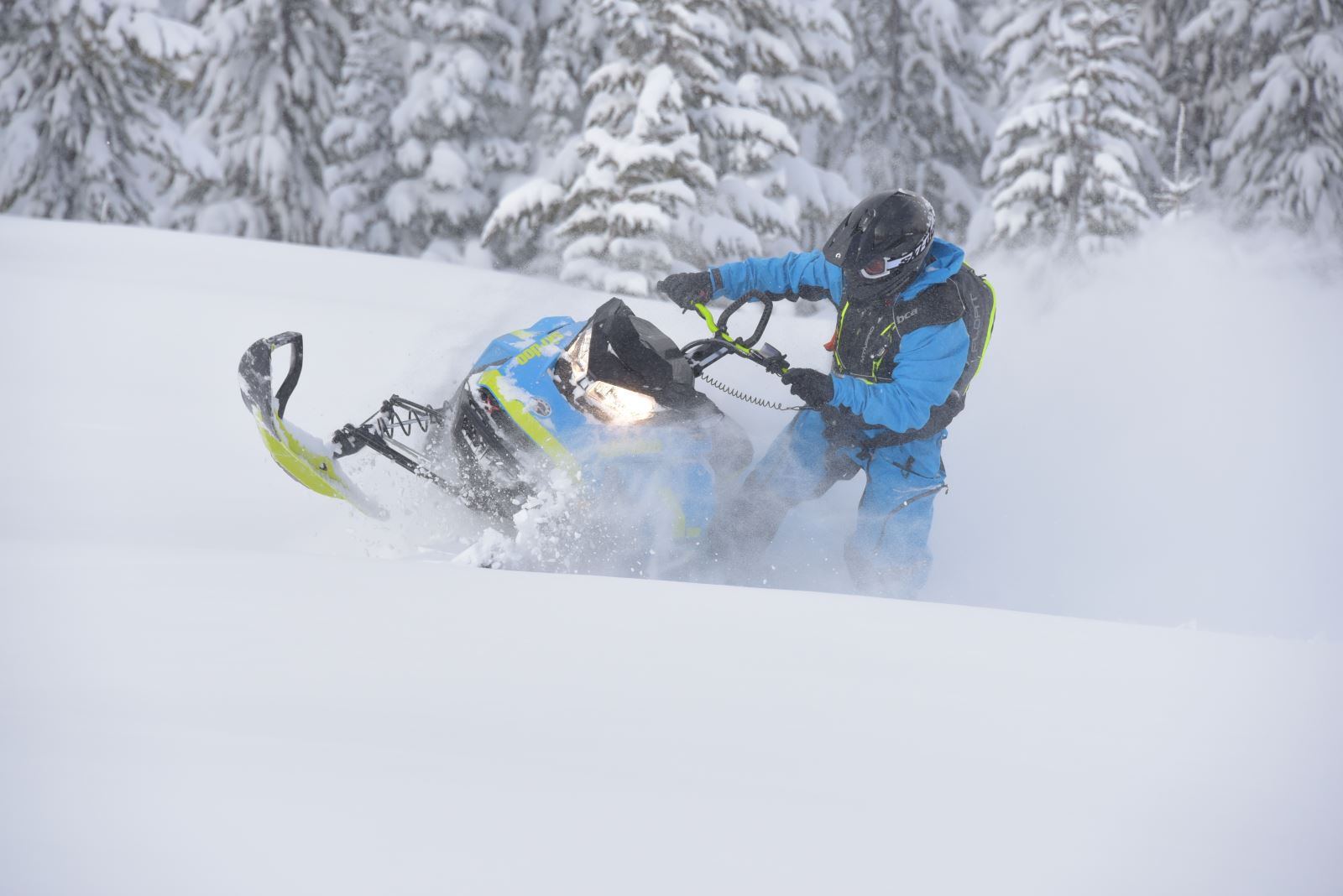 The 175 track length is not a new concept. The 174 Summit XM and 174 Axyx RMK have proved that the long track has a place in the mountains.
The 2018 Summit 175 just hits that point home. In B.C., most of the ride was spent on sidehill tree lines
(there's not a lot of flat areas to regroup and get going again in those mountains).
In this terrain, the 154 would chase its tail, constantly washing out and dropping the track downhill.
The 165 was noticeably better, but once we jumped onto the 175, we realized that even the 165 can lose its grip on a steep slope.
The 175 drives across sidehills with ease, floats through bottomless creek beds without a worry and hooks up on technical climbs exactly how you'd expect––like a sherpa.
We're long-time fans of the Freeride sleds.
The last two model year Ski-Doo Freerides have been absolute riots all over the mountain, but specifically on the rough trails going in.
If you like the Freeride from more of a mountain-riding perspective, then you're going to love the 2018 Freerides.
The Gen4 chassis gives it a very Summit-like feel, with the main differences being rail braces,
running board braces and an upgraded piggyback reservoir clicker shock package.
The 2018 Freeride could pound through rough moguls, angles drainage ditches,
hammered creek beds and jumps with more control and confidence than the Summit, thanks mostly to the shocks.
__________________
---
Last edited by christopher; 05-23-2017 at

03:24 PM

.
05-23-2017, 07:14 PM
Currently: pow hunting on the 850

Join Date: Jul 2008

Location: Jackson Wy

Posts: 2,261

Thanks: 1,256

Thanked 475 Times in 307 Posts

---
Looking forward to my 175. Missed the 174 a couple times last season...
__________________
2019 Summit X 850 175X3"
05-24-2017, 11:11 AM
Currently: Liv'n the Dream everyday

Join Date: Oct 2008

Location: Albuquerque NM

Age: 53

Posts: 1,129

Thanks: 320

Thanked 330 Times in 150 Posts

---
Love my 2017 165" X, but can't wait for my Blue 175" w/shot!
You may not post new threads

You may not post replies

You may not post attachments

You may not edit your posts

---

HTML code is On

---
All times are GMT -6. The time now is 08:21 AM.