Christmas is less than a week away. If you're still dropping hints for the gifts you want, here's a few ideas.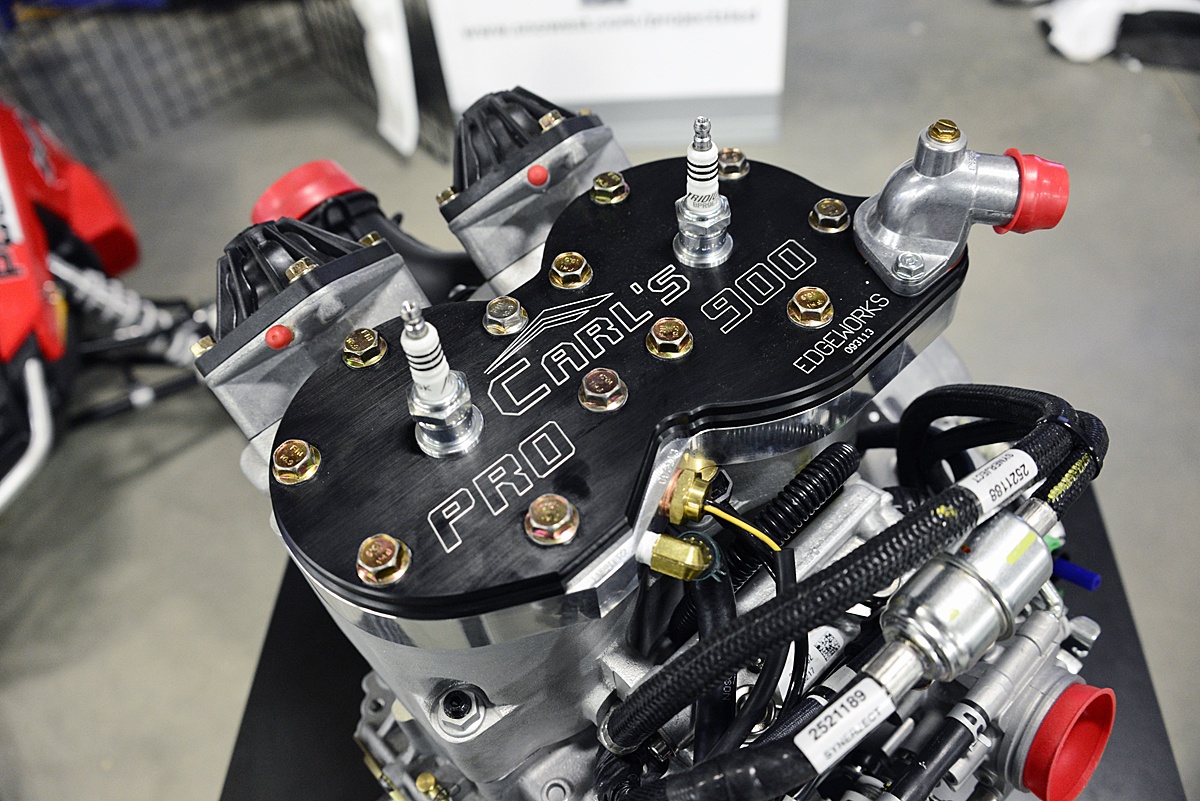 Carl's Cycle Pro RMK 900 Engine
Turn the power on with a big bore for your Pro RMK 800. The 900 kit from Carl's is full of torque and horsepower that will solve your post-holiday blues. The kit includes pistons, cylinders, heads and case machining and porting and runs on premium pump gas.
KMod Rear Suspension with Raptor Shocks
Every sled could use a suspension upgrade. The Raptor clicker shocks and easy-adjust coupling control make the KMod skid a cut above.
.
Skinz Frame Series Front Suspension
Skinz engineers took a unique approach with designing their Pro RMK front end. It moves the spindle two inches forward and changes the camber for better rider control and an improved feel.
Starting Line Products Ceramic-Coated Exhaust
An SLP exhaust system is a great way to perk up any mountain sled. Improved throttle response, increased power and decreased weight are all key selling points. Plus they sound rad.
NXT LVL/Skinz Low-Rise Seat with Storage
Don't think what you really want is under the tree? Buy yourself a new seat for your sled and just imagine the look on your face when you open your own favorite present!
Curve Industries Curve XSM Mountain Ski
Every sled could benefit from a new set of skis, and Curve Industries' XSM Mountain Ski will have you carving sidehill lines and ripping powder turns like a pro.
Camoplast Challenger X3 Track
There are mountain tracks, and there is the X3. This track is a game-changer. From a stock sled to a turbo, this track's 3-inch lugs will make a bigger difference in snowmobility than you could imagine. You'll need new drivers, too, and they're available from Avid Products.
Blown Motor Avalanche Safety Gear
Equipment such as an avalanche airbag pack, beacon, shovel and probe are all essential components of any backcountry rider's gear set. You can find everything you need to be prepared at Blown Motor.
Fire N Ice Tunnel Brace
Pro RMK tunnels that take extreme abuse from backcountry riding can benefit from a set of tunnel braces to prevent buckling. The Fire N Ice braces are cut to match the existing brace and install easily. Check out their Quick Drive belt tensioner, too.
Fox Factory Series Float 3 Evol Shocks
It doesn't get any better than this. Order a set of Fox Float 3 Evol shocks with Kasima coating and experience the best ride quality in a lightweight package.
NXT LVL Windshield Bag
The NXT LVL windshield bag is a totally unique idea in that it replaces the windshield completely with a all-in-one bag/windscreen that provides extra storage on your Pro RMK or ProClimb.
Skinz Protective Gear Air Frame Running Boards
Available for most current models, the Air Frames feature round-stock structure with exclusive molded traction cleats that you can position to your liking. Snow will not build up on these boards.
Fly Racing/NXT LVL Front Bumper
Available through Western Power Sports dealers, this Pro RMK front bumper (and available matching rear bumper) are lightweight yet sturdy, providing a lot more protection than the stock bumpers.
ArcticFX SledwrappR Graphics
The most versatile gift for any sledder. Give the gift of standing out in a crowd with a unique custom sled wrap.