Whether you're looking for that first sled, trying to update to the latest technology or determining what the most capable snowmobile is in extreme conditions, this year's Deep Powder Challenge created lots of opinion and not so much domination.
But after 200 miles of busting powder, boondocking through the backcountry and blowing down trails, the Ski-Doo Summit 800 prevailed as the sled of choice for most riders.
This wasn't a decisive and dominating decision. In certain conditions with certain riders, the Polaris 800 Pro RMK certainly stood out above the competition. In other conditions, the Arctic Cat M 800 Sno Pro proved to have the power and performance to prevail. But at the end of the day, there was something about the consistency of the Summit that most everyone liked.
Each year we look at different ways to test the three 800s. And over the years this has been a very solid battle. This year we thought we would combine the input from four groups.
First, we went to a group of riders who could be considered novice to western riding and had no experience on the new snowmobiles. The second group consisted of three riders who have snowmobiling experience, but not on the new style sleds. The third group consisted of hard-core mountain riders who have been on all three brands in the past, but perhaps not on the same day. Finally, the SnoWest SnowTest staff went out and formed their opinions.
So basically we were looking to see what stood out in the minds of those who are new to the sport, not up-to-date with the technology or live for deep powder—a pretty broad and interesting mix. And our snow conditions varied about as much as our riders.
The SnoWest SnowTest staff had the luxury of riding the three 800s in the most variety of terrain and conditions. And naturally, the most weight of the collected opinions was given to this group or riders (Steve Janes, Lane Lindstrom and Ryan Harris). And there certainly wasn't a unanimous choice from the group. All three sleds seemed to have certain strengths and weaknesses. But this year's refinements to the Summit, particularly with the tMotion rear suspension, made it more capable in most conditions.
For those who found the new style snowmobiles totally unique to their previous riding experiences, the Ski-Doo was always the easiest to handle. And for the SnoWest crew who ride all three brands often, the refinements to the Ski-Doo make it work well in all conditions.
But for riders who have spent more time on one brand (Cat or Polaris), the Ski-Doo's ease in rolling from side to side caused them problems in handling—too often they over-steered and found themselves a little out of position.
A few interesting observations: The Cat odometer tends to read about 10 percent more than the other two sleds. It finished out reading over 20 miles farther than the other two sleds even though all three went virtually the same places. It also had the highest fuel consumption—7.5 miles per gallon compared to Polaris at 8.2 mpg and Ski-Doo at 9.8 mpg.
Also, there was no consensus from any group as to what snowmobile dominated any given category. What one rider liked in one category, another rider's view was totally different. This tells us that all three snowmobiles are highly competitive, yet deliver a unique feel.
We were actually surprised with how solid Cat showed throughout the tests. Even though it was the heaviest of the three, it often was viewed as the lightest handling of the three. Also, more riders noted how it continued to feel better the more time they spent on it.
Although the decision to pick Ski-Doo over the other two rests completely on the SnoWest staff, you may want to match up your own riding style and ability to the other guest riders to see what sled might best suit your needs.

Group 1—Talk about having the wrong group on the wrong day, although most of these schedules are worked out without the knowledge of what Mother Nature has in store. We took three riders who had limited experience in snowmobiling (mostly trail riding or on older equipment) and got them into the mountains and into 2-4 feet of fresh untracked powder.
Needless to say, there were a lot of "stucks" happening … and within a couple of hours there was more steam rising from their bodies than from Old Faithful.
At first they didn't mind—they were on some great sleds doing something that others only dreamed about. And one unique thing about this group was that it consisted of several department heads in the Idaho Falls (Idaho) Parks and Recreation division. (When they left the office that morning, they jokingly told their secretaries they were taking a "working day" to explore recreation opportunities. Little did they know how much "work" was actually in store.)
The lower trails in eastern Idaho had about six inches of powder, making them smooth and slick. It was a good warm-up to get comfortable on the new snowmobiles.
Once we got up to about 7,000 feet in elevation and into the national forest, there was about two feet of snow on the trails, making them somewhat challenging for novice riders and off the trail there was twice that amount.
After a while, the group collectively decided not to get too adventuresome and keep the "stucks" to a minimum. But during this same time, they were figuring out how to adapt to the snowmobiles and they managed to eliminate most of the inexperienced "stucks" and actually did quite well.
By the end of the day they were tired, wet and couldn't wipe the smiles from their face.
Group 2—The snow was very smushy—the kind that brings out the worst in snowmobiles. Since the snow depths in the Brockman area of east Idaho are still quite marginal (two to three feet), there weren't the kind of conditions where you could cut into a side of the slope for serious sidehilling. And with the smushy snow, the tendency for the sled is to always dive on the downhill ski.
But the snow is what it is. Unless you are only going to ride on those bluebird days following snowstorms (maybe three or four times a season) you have to take the snow conditions as they are … and for at least two months during the season they will likely be very similar to the conditions on this day.
Our three riders were Clint Wheeler, Chad Egbert and Christopher Parrett. This was a group of snowmobilers you would classify as intermediate riders.
Wheeler was a one-time cross country racer who in recent years has only been getting out a couple times per winter. Egbert is at that awkward age in life where paying bills and raising a family trumps buying new snowmobiles. Parrett, on the other hand, administers the SnoWest Forums and spends his days eating, drinking and sleeping snowmobiles. However, he rides a Yamaha 4-stroke turbo and has no preconceived notions in the battle of the 800 two-strokes.
Group 3— There are years when the "Deep Powder" doesn't always show up for the Challenge. But by luck or design, our backyard riding areas were dead center of this season's heavy snowfall. And for the three days before Group 3's ride, it snowed some more.
The powder was about 2-3 feet deep on top of a great base. We stuck to tree-covered terrain and drainages with very steep side walls.
The group consists of three very seasoned and proficient backcountry riders who excel in this type of terrain. We found ourselves going up canyons with creek bottoms you really wanted to avoid. That meant long technical sidehills, maneuvering around obstacles, dodging rocks and sudden uphill turns … all impromptu.
The snow was ideal, maxing out each sled's engine and clutching. You couldn't just rely on horsepower to get you where you wanted to go—you had to get the most out of the chassis, suspension, approach angle and weight transfer on each sled.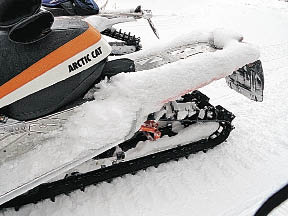 Rhett Clark has ridden Polaris the last two years and Cat prior to that. Bruce Kerbs owns a new Cat currently and has experience with Polaris. Brad Ball has a Summit XM and a turbo Polaris currently and has a pretty vast history with all sled makes.
But from their six-hour backcountry ride in these snow conditions, what each test rider found himself most comfortable on might surprise you.