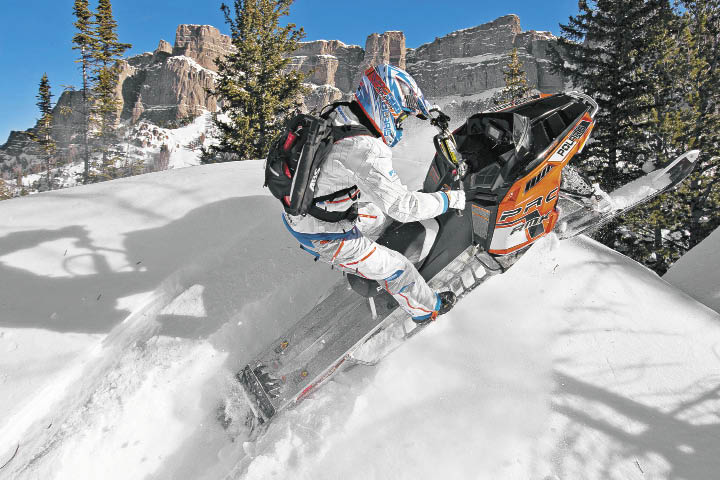 That headline might be a little misleading when it comes to Polaris' 2014 lineup for the mountains, but it's not too far off. Considering Polaris is still riding a wave that carried it to the top of the mountain when it comes to unit sales (and performance), maybe the company deserves a bit of a break after being on the throttle hard for the past two or three years.
Polaris returns with three models and three different track lengths (for a total of seven different models) for 2014: the flagship 800 Pro RMK 155, 800 Pro RMK 163, 800 RMK 155, 600 Pro RMK 155, 600 RMK 144, 600 RMK 155 and 800 RMK Assault 155.
As not much has changed with any of these models for 2014, the big news comes in a couple of different areas, Polaris' SnowCheck program and "fixes" to a couple of problems specific 2013 RMKs experienced.
First let's talk SnowCheck. Polaris is offering a bigger SnowCheck Select program for the 2014 models. The program ends April 23. As you know, SnowCheck gives consumers a chance at purchasing versions of sleds that aren't available any other time of the year.
A rider can configure dream sleds online at www.terraindomination.com and save them in a personal online "garage." The rider can take a printout of his dream sled's configuration to his Polaris dealer to place a SnowCheck Select order by the date mentioned above.
Several Choices
RMK LE models available during SnowCheck Select include the 800 Pro RMK 155 LE and 800 Pro RMK 163 LE, each available in several configurations. Choices include windshield height, storage, side panel color and whether to add electric start. The 800 Pro RMK 155/163 LE is available with black rear skid rails or with red rails.
Windshield options include low (with hand guards) or mid-height while storage options include a handlebar bag, underseat bag and Burandt Lock & Ride Tunnel Bag. Side panel options include five different colors (on the RMK LE with black rails) and five different color options on the RMK LE with red rails.
You can also get an 800 RMK Assault 155 LE during Polaris' SnowCheck event. It's available with painted rails, the low windshield (again, with hand guards) or mid-height windshield, handlebar bag, underseat bag and Burandt Lock & Ride Tunnel Bag and either the Competition Track or Powder Track.

Now on to the "fixes" we mentioned. There were instances of broken drive shafts on a limited number of 2013 600 and 800 Pro RMK sleds. "This condition," Polaris reports, "has been caused by a manufacturing process variation resulting in insufficient press fit and strength between the drive shaft and sprocket-side hub insert." Or as Polaris' Director of Snowmobiles Chris Wolf said, the problem arose because of a "dimensional variation between parts."
Remedy
To remedy the problem, a Drive Shaft Collar Kit was put together and installed on affected 2013 models and will be stock on 2014 models. It really was a quick fix as Polaris allotted its dealers 30 minutes' warranty time to fix the issue and install the collar kit.

You might have also read on www.snowest.com about a recall Polaris issued on a few Pro RMKs last December due to a faulty front, lower left shock bolt that could possibly fail. That affected a small number of 2013 Polaris Pro RMK 600 and 800s and was a relatively easy fix as well.
All those features that helped the Polaris RMK rise to the top as the No. 1 selling snowmobile (not just in the West but the entire snowbelt) for MY13 return for 2014, including the Pro Ride chassis on its entire mountain lineup. More specifically, the Pro RMK, the lightest stock mountain sled you can buy, once again features the QuickDrive Low Inertia Drive System, Pro-Lite Seat, Walker Evans Coil-Over Shocks, Adhesive Bonded Suspension Components, lightweight silencer and a carbon fiber overstructure. Those standard-equipment features help the 2014 Pro RMK 155 weigh 417 lbs. dry, the same as the 2013 model.
The 800 RMK Assault returns basically the same as well
The New Trail RMK?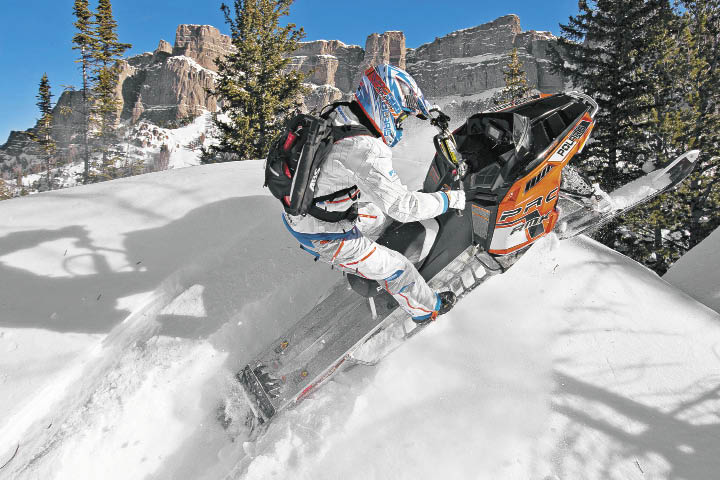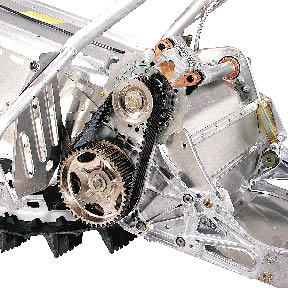 There is one other new Polaris that caught our eye at Polaris' 2014 unveil. Make that two new models: the 600 Indy Voyager 144 and 550 Indy Voyager 144. The reason these two machines piqued our interest is that they come in the Pro Ride chassis; yea, the same one as the RMK. The 550 Indy Voyager somewhat hearkens back to the days of the Trail RMK, which was last seen in MY2010 (seems longer than that). Combing through the specs comparing the two models, the Indy Voyager definitely is an upgrade and could very well be considered an entry level mountain snowmobile with the option of the liquid-cooled Liberty 600 twin or Polaris 550 fan-cooled twin. Other upgrade differences between the Trail RMK (which was in the old Escape chassis) and the Indy Voyager are, as mentioned, the Pro Ride chassis, RydeFX shocks (as opposed to the very basic Nitrex shocks on the old Trail), Indy Pro-Ride Seat, adjustable ski stance (39, 40 and 41 inches as opposed to non adjustable on the Trail), 9 inches of travel on the front (Trail: 7.6 inches), 15x144x2.0 Series 4 track (on the 600 Indy Voyager) or 15x144x1.35 Cobra track (on the 550 Indy Voyager) vs. the 15x136x1.25-inch track on the Trail and a more plush suspension (RMK Rear on the 600 and coil-over rear on the 550).
There are enough changes that anyone who is looking at the sport of snowmobiling or wants a decent second sled for their kids or is a rental agency might want to consider either of these Indy Voyagers.