In a state as big and as diverse as California, it shouldn't come as any surprise that snowmobiling is just one of the many outdoor recreation activities available there. Snowmobiling might not be as popular (or as marketed by the state) as alpine skiing, but there's quite a swath of mountains that covers California and that are ideal for sledding.
California offers about 2,500 miles of groomed snowmobile trails spread across a dozen and a half distinct riding areas plus more areas that offer off-trail sledding. Some of the areas are close enough that you can ride one area one day and another the next. Others are farther apart and require some trailering to reach.
It's just about 650 miles from where you can ride in northern California near the California/Oregon border to the Angeles and Los Padres national forests in the south. While you can't ride from the north to the south non-stop on a snowmobile, there are dozens of riding areas scattered from one end of California to almost the other where you can ride.
Most snowmobiling is on the western slope of the famous Sierra Nevada (which is Spanish for Snowy Range) Range, which has a reputation for its deep snows. Some places in the state can get as much as 40 feet of snow. Snowfalls are legendary in the Sierra Nevadas.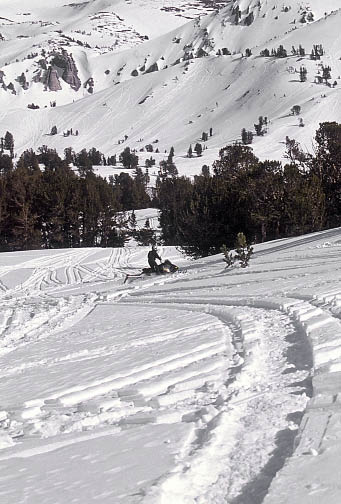 There are swaths of riding areas spread from the northern border with Oregon to the central part of the state and pockets of riding everywhere else. You just have to do a bit of sleuthing to find them and then enjoy them. We've listed the most popular and best developed areas in this section. For example, we've listed the snowmobile area of Siskiyou County, home to 14,162-foot Mt. Shasta, but head to the Modoc National Forest website and you'll read about the Medicine Lake Highlands, which offer 31 miles of groomed trails, and the Doorknob Snowmobile Park. That seems to be a somewhat common theme in California—well-developed trail systems with a smaller riding area nearby.
A good website to check out for snowmobiling is the California OHV site—http://ohv.parks.ca.gov—which gives information on the sno-parks. The California-Nevada Snowmobile Association (www.cnsa.net) is another good source of information on riding in the state.
In listing the primary snowmobiling areas in California, we chose to list the name of the trailhead that serves the trail system or use the county in which the trailheads are located for easier referencing when trying to locate each area.