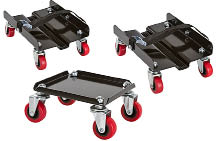 Store or glide your snowmobile across the garage or shed floor with the greatest of ease when you have the assistance of the Black Ice Three-Piece Snowmobile Dolly Set from Rage Powersports.
The set of steel-constructed dollies includes two carbide runner dollies that measure 10-1/8 inches L x 7-7/8 inches W x 4-3/8 inches H with a strap and buckle to securely affix the snowmobile runner and a track dolly that measures 7 inches L x 7 inches W x 3-1/2 inches H, perfect for mobilizing the back end of the sled. All three snowmobile dollies have a raised edge, four 2-inch swivel casters for portability and can be used for single or double runner skis. The dollies assemble in minutes and come with a one-year warranty.
Contact DiscountRamps.com (888) 651-3431 or www.DiscountRamps.com.