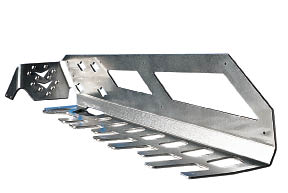 Designed for select Ski-Doo XP/XR sleds, new tunnel supports by White Out Technologies (WOT) are made of 1/8- inch aluminum and benefit from the only integrated toe hold feature on the market. This toe hold feature effectively ties the outer rail to the tunnel for increased running board rigidity.
In addition to strengthening the running boards, the toe hold provides the rider with a location to place his feet when lining up with sleds on the lake or negotiating a hill in the steep and deep. The overall length of the support is more than double the length of similar products, creating a solid platform for the rider.
The tunnel supports are available in natural aluminum or black powdercoat finish. All mounting hardware is included. The supports start at $150 a set.
Contact White Out Technologies www.whiteouttechnologies.com.