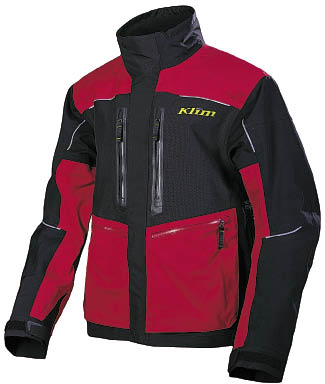 Klim is gearing up for a great snow season and nothing shows they're ready to ride more than the redesign of their top-of-the-line Valdez Parka and Togwotee Bib. The Valdez Parka and Togwotee Bib are the only pieces on the snow that have Klim-selected features and benefits like Gore-Tex ProShell construction technology—the most durable, breathable and Guaranteed To Keep You Dry waterproof technology.
Redesigned Valdez Parka
Klim streamlined the Valdez, removing pocket flaps and revising the fit to eliminate excessive fabric and bulk. The company even managed to get faster pocket access—even while riding. Second, styling is improved with an embossed fabric technology that adds cutting edge design (and a true black-out look to the black colorway) and dynamic texture to the most advanced jacket in snowmobiling. Featuring Gore-Tex Pro Shell Comfort Mapping construction— guaranteed waterproof and the most breathable, most durable motorsportsspecific shell material in the world—the Klim Valdez is the top choice if you want to stay dry year after year.
The Klim Valdez Parka retails for: $419.99 (S-2XL), $459.99 (3XL) and is available in black, red or blue.
Redesigned Togwotee Bib
The Togwotee comes into 2013 with a black-out style (all gray color blocking has been eliminated) and the same embossed fabric technology as the new Valdez Parka. Gore-Tex Pro Shell construction offers the most durable, most breathable and guaranteed waterproof technology on the snow, six cargo pocket options give you great carrying capacity and highly durable exterior shell materials keep it looking new season after season.
The Togwotee Bib retails for: $399.99 (XS-2XL), $419.99 (SM-2XL Tall) $445.99 (3XL), $465.99 (3XL TALL) and is available in black.
Contact Klim (208) 552-7433 or www.klim.com.