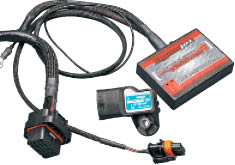 For select single and twin cylinder engines, fuel delivery and spark advance adjustments can now be made with the new Power Commander V with fuel and ignition control. Now you can realize all the benefits of the Power Commander V and the Ignition Module 5 wrapped in a single enclosure.
Includes all the features and accessory options of the Power Commander V for precise fuel control
Allows +/-20 degrees of timing adjustment
Adjust timing per cylinder
Adjust timing per gear
Raise your rev limit (only available on select models)
Adjust timing based on temperature or boost inputs
Built-in launch limiter
Gear position timing
Boost/nitrous retard timing
Pit lane limiter
Another feature of the Power Commander V with Fuel and Ignition is the ability to use any two of these functions at the same time: Map Switch, QuickShifter, Pit Lane Speed Limiter and Launch Control.
Contact Dynojet Research (800) 992-4993 or www.dynojet.com.