In business since 1991, CMX continues to be the only aftermarket sled builder that is still producing unique snowmobiles for the mountain rider. CMX owner Mark Hoffman says that longevity is because of CMX's relentless dedication to perfection.
"We are now building the machines that we have always dreamed of building," Hoffman said. "The thing that makes this possible is the continued evolution of technology and its implementation in the snowmobile industry."
CMX-X sleds are built from the ground up, or in other words, the company doesn't start with an existing factory sled and try to recreate what already exists. The company focuses on what it wants to accomplish with regards to light weight, reliability, handling and overall performance.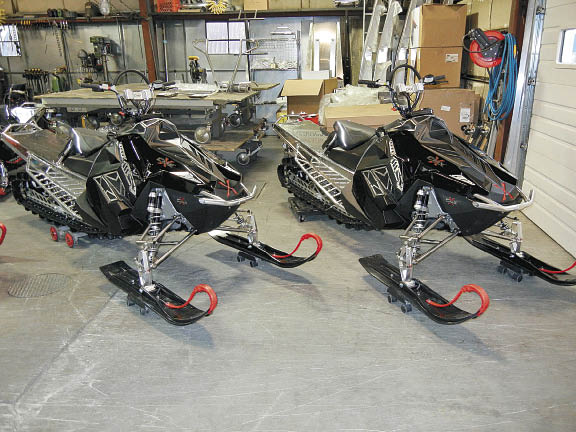 "We use some factory Polaris parts, such as the cast aluminum bulkhead and over structure," Hoffman said, because "It would be cost prohibitive to create these parts when they are mass-produced and this is great technology that would be very hard to improve upon. The CMX billet aluminum side plates are then attached to the CMX modified cast aluminum bulkhead. From this point on the chassis is all CMX.
The CMX-X ride height is a little higher than most other sleds. This gives more clearance to the snow, which means less drag. The way this is accomplished is by changing the front and rear suspensions' relationship to the chassis. The Crazy Mountain Xtreme Drive System (CMXDS), standard on all CMX sleds since 1999, is one inch longer than a stock Polaris Pro, which moves the drive shaft down an inch and back an inch. This improves the attack angle, which makes the sled get up on the snow better.
CMX uses larger drivers (2.86 pitch, 9-tooth vs. the stock Pro RMK's 8-tooth), which helps the track roll easier over the larger diameter.
Hoffman also pointed out that CMX has been building, selling and riding CMX Turbo Rockets since 2008. CMX uses the Aerocharger T66 turbo to boost CFI Polaris engines, producing approximately 260 hp on 10 lbs. of boost. Power delivery is smooth and consistent at any throttle position, making boondocking as fun and easy as what you'd find on a naturally aspirated sled. With the turboed CMX-X, when you need that extra 100 hp to get you out of a bad situation, you have it. Hoffman says he has had zero engine problems and zero turbo problems. Dobeck Performance builds CMX's private label tuning boxes, allowing Hoffman to fuel the engine properly in all conditions, both on and off boost.
The CMX-X features a 16-inch wide track. Hoffman said his experience shows that a one-inch wider track has a greater positive effect on flotation versus a longer track. The common misconception is that a 16-inch wide track makes a sled harder to sidehill, Hoffman said. "There are many factors that affect how a sled handles," he said. "We have created the proper geometry and ergonomics to make the CMX-X with a 16-inch wide track the easiest sled you will ever ride to lay over, carve and sidehill with."
CMX Skinz Airframe Running Boards are one inch wider than stock running boards, which gives the rider more leverage, making it easier to use your weight to tip the sled. The custom seat on the CMX-X is built by Skinz and is very easy to do crossover maneuvers on in challenging, technical terrain.
For more information, visit www.crazymtn.com.