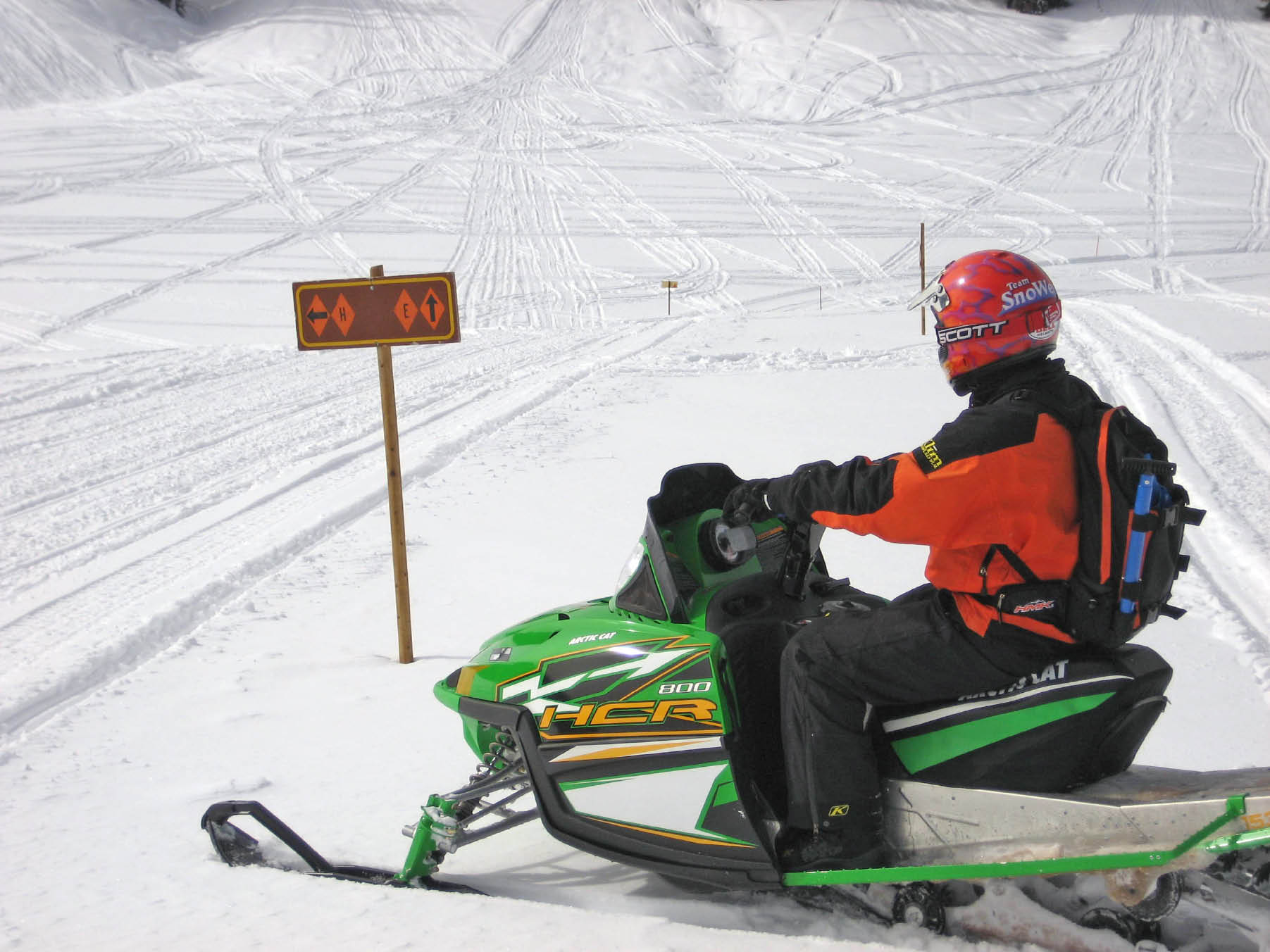 We wouldn't exactly make the claim that the snowmobiling in Wyoming's Sublette County is an island unto itself, but if you were stranded … it wouldn't be a bad place to be stuck snowmobiling.
We say it's not an island unto itself because the trail systems that enter and exit the county on the east, north and west sides all lead to great riding, but if you never left the county, then you'd be in for some spectacular riding as well.
Spectacular because the county is nearly surrounded by mountains. The Wind River Mountains form much of Sublette County's eastern border while the Wyoming Range flanks the western border. On the north side of the county sits the southern part of the Gros Ventre Range. Those are three of Wyoming's most famous and spectacular mountain ranges. High desert makes up the southern portion of the county.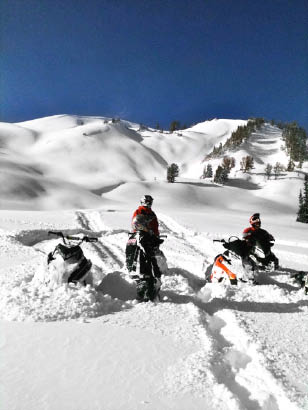 While it would be nice to say that snowmobiling is wide open all across the 4,886-square mile county, that's not the case. Much of the Wind River Mountains are in the Bridger Wilderness and off limits to snowmobiling. Part of the Gros Ventre Wilderness fills the northcentral portion of the county and there are several winter ranges set aside for wildlife scattered across the county. There are a handful of trails that go through the winter ranges but sledders are restricted to the trails through those areas, which are clearly marked on the snowmobile trail map. On one of our rides through a winter wildlife range while sledding on the Continental Divide Snowmobile Trail we were able to watch a large herd of elk being fed from a horse-drawn sleigh.
Plenty Of Riding
Even with the Wilderness areas and winter wildlife ranges, there is still plenty of riding opportunities, especially over near the Wyoming Range, which stretches for 150 miles north to south in western Wyoming. This area is probably the most popular riding area in the county—we've sledded there several times—partly because there are fewer restrictions, i.e., Wilderness, winter wildlife ranges, etc., here than in other parts of Sublette County.
Several criteria usually high on a snowmobiler's list of what makes an area ideal for riding combine to create a stellar experience in this part of Sublette County. The Wyoming Range is rugged, very scenic and has plenty of mountains, hills and bowls for climbing. Horsepower junkies love this area for its challenging hillclimbs. Technical riders like the area because there are plenty of trees and lots of drainages that are demanding.
Of course, deep snow appeals to all snowmobilers and that's one of the Wyoming Range's most impressive attributes. The snotel site at Blind Bull Summit (elevation 8,650 feet) showed the snow depth last winter passing the 75-inch (6.25 feet) mark Jan. 19, 2011 and not dropping below it again until June 7. The powder is light and dry and makes for awesome riding and boondocking.
We mentioned the great tree riding but there are also lots of open meadows and play areas that cater to riders of any skill level. Then there's the groomed trail system. One of the things we like about the groomed trail system is the variety—along creeks, through mountain gaps, low elevation, high elevation, long and straight and tight and twisty.
All this is the ideal combination of conditions that appeals to the entire gamut of snowmobilers.
Local Point Of View
Here's how one local rider, Sandy Sletten, describes the spot in the Wyoming Range side of Sublette County he likes to ride. "Horse Creek is the favorite place for everyone to ride. Snow is always early and stays late. It's an amazing place to ride. The Wyoming Range Mountains have awesome 360-degree views where you can even see the Teton Mountains. There's lots of trail riding and endless boondocking that keep everyone happy."
We chronicled one of our most recent rides in the Wyoming Range a year ago in the September, 2010 issue of SnoWest Magazine ("No Time For Highways," page 36). We rode from Bone, ID to Merna and the Timberline Lodge in Sublette County and then rode back a slightly different route. We crossed into Sublette County at McDougal Gap, headed north, shadowing the groomed trail and then went east to Merna. On the way back we headed toward Blind Bull and then back to Bone.
As amazing as it is to ride in the Wyoming Range portion of Sublette County, it's not the only riding in the county. Wyoming's longest and most famous snowmobile trail, the Continental Divide Snowmobile Trail, goes through portions of the county.
We've ridden most of the nearly 600-mile CDST from one end to the other, starting at the Sinks Canyon parking area south of Lander, crossing through Sublette County and the town of Pinedale on our way to Togwotee Pass and finishing at Grand Teton National Park. When we took that snowmobile trip, you could still ride a groomed trail through Boulder and Pinedale, turning north at Highway 352 and continuing on to the northern part of Sublette County on your way to Brooks Lake and then Togwotee.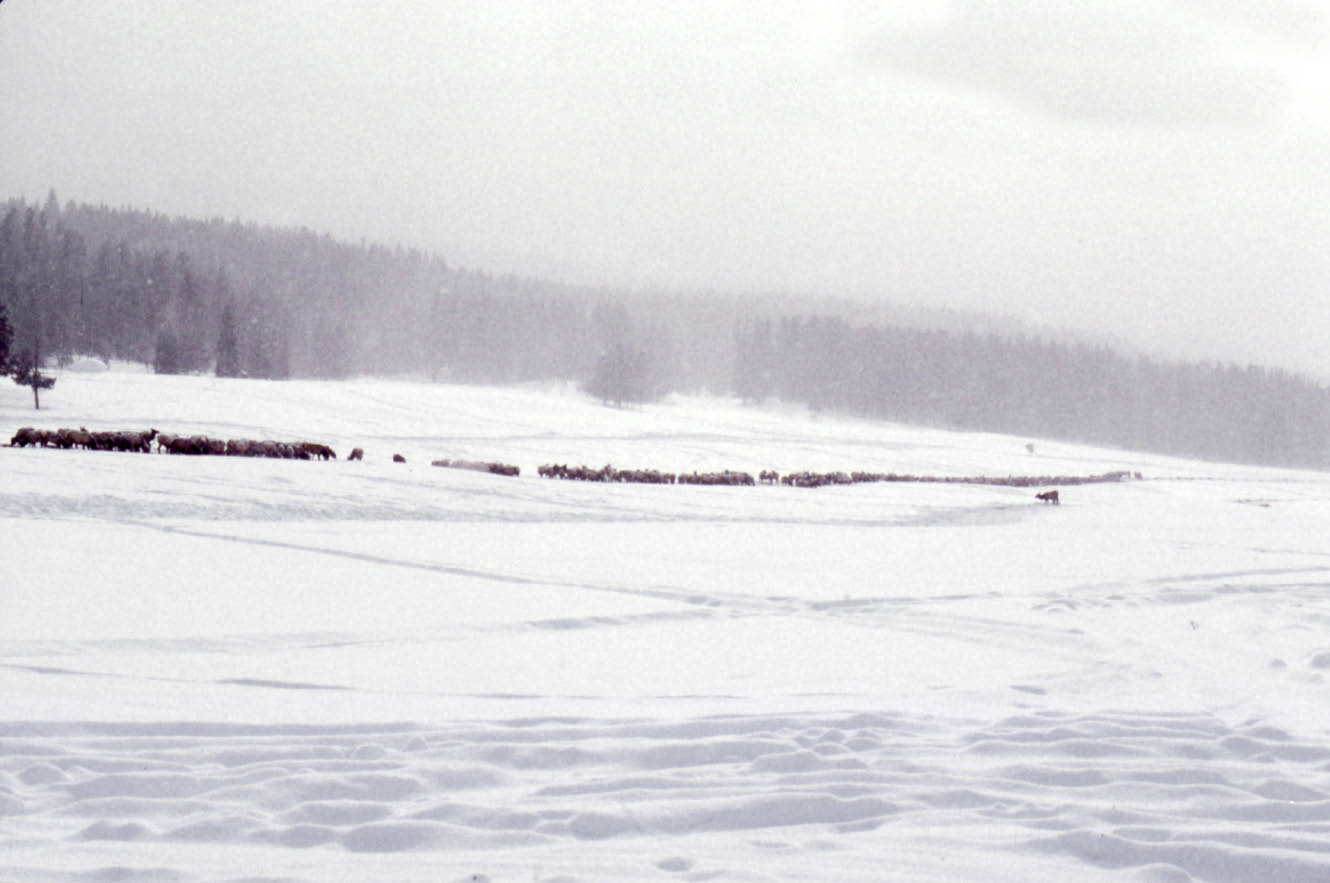 Admittedly, it was tough for the state of Wyoming to maintain the groomed trail from east of Boulder up past Cora because snow conditions weren't always ideal. It might be hard to fathom that there wasn't always enough snow around Pinedale, which sits at about 7,200 feet and has an annual snowfall of 62 inches, but it is true.
The trail the day we rode through Boulder and Pinedale wasn't bad but there could have been more snow. Even today, you can still see signs near Pinedale indicating that you can ride alongside (in the right-a-way) the highway (U.S. Highway 191), assuming there is snow. It just won't be groomed.
CDST Today
Today, Wyoming maintains a groomed trail from the Sinks Canyon and Atlantic City areas to the Irish Canyon parking area, which is up Highway 353 from Boulder. That section of the CDST is in the Wind River Range.
North of Pinedale, grooming on the CDST starts near The Place and Green River Guest Ranch. Lots of side trails—groomed and ungroomed—branch off the CDST in northern Sublette County.
Your best bet, if you want to ride the CDST is to trailer between Irish Canyon and the Green River Guest Ranch.
From where the grooming starts near the Green River Guest Ranch, the CDST goes between two Wilderness areas so the riding is somewhat limited but it opens up the farther north you ride. It's in this area that you're riding between and on the Wind River and Gros Ventre mountain ranges, which means stellar mountain riding and amazing views.
A couple of highlights from our ride on this portion of the CDST were the aforementioned elk feeding and seeing a glacier. According to glaciers.us, there are 25 (of Wyoming's 38) named glaciers in the Wind River Range. The glacier we saw wasn't very big but it was a glacier and it was kind of cool to see it. Still another highlight was the incredible snow, which was deep and plentiful on our ride. In fact, we've ridden many areas of Sublette County and the snow has always been great. Sometimes the white stuff was falling as we rode and the visibility was less than great, but the snow has always been good. That's why we keep going back.
We think of it as our own little island of snowmobiling fun.