The board of the Snowmobile Hall of Fame (SHOF) has announced the 2012 inductees who will be enshrined Feb. 18, 2012. They include Larry Bosacki of Minocqua, WI, Joel Hallstrom of Thief River Falls, MN, Toni Haikonen of Finland and Marcel Fontaine of Quebec, Canada.
The induction banquet follows the day-long celebrity trail ride, known as the Ride With The Champs, now in its 29th year. This year, the ride is sponsored by Modine HotDawg Garage Heaters of Racine, WI.
The Ride With The Champs has become one of snowmobiling's most prestigious rides and includes two late model rider groups and two vintage sled rider groups. Two of these groups leave the Whitetail Inn in St. Germain, WI, after registration and breakfast at 7 a.m. and go to Fish Tales on Lake Gogebic in the Upper Peninsula for their traditional lunch.
One is the Vintage Challenge where older sleds attempt to make the 150 mile roundtrip ride. Those successfully completing the entire trip receive a Vintage Challenge Certificate at the banquet. The other two groups take shorter rides in the local Northwoods area.
The $130 fee includes breakfast, lunch, a souvenir bib, an event cap and includes the 6 p.m. cocktail and autograph session and the induction banquet at 7 p.m.
There will be a silent auction at the banquet and raffle tickets will be sold until 8 p.m. when the drawing will take place for the 2012 Ski-Doo MXZ 600 Sport snowmobile donated by Bombardier. Tickets are $10 each or 3 for $20 and can be purchased at the HOF or by internet at www.snowmobilehalloffame.com.
The Snowmobile Hall of Fame operates a year-round museum on Hwy. 70 W in St. Germain. The museum includes a gift shop, the wall of fame and a tour of the race shop for the oval race team of Brad Bettin, No. 20 of Woodruff, WI.
An open house will begin at 3 p.m. on Friday, Feb. 17 at the Hall of Fame for early arrivers, inductees and families. Refreshments will be served. The public is invited.
For additional information about the SHOF visit the above listed website or call (715) 542-4HOF.
Here are brief biographies of each of the inductees.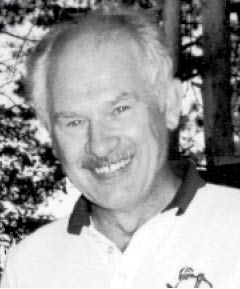 Larry Bosacki
Date Of Induction: February, 2012
Career Span: 1967-Present
Brands Represented: All
Age At Induction: 79
By embracing and nurturing the sport of snowmobiling during its formative years, civic-minded people like Larry Bosacki transformed winter recreation and the Wisconsin Northwoods. The third-generation owner of Bosacki's Boathouse eatery on Minocqua Lake in the town of Minocqua, Bosacki understood that the fledgling sport was about people, experiences and hospitality. For more than three decades Bosacki gave from his business and himself to foster those key elements.
By partnering with snowmobile clubs, grooming local spur trails at his own expense and promoting snowmobile tourism at every turn, Bosacki helped grow the winter economies of an entire region. To expand his local business and the opportunity to ride, he operated a Ski-Daddler dealership from his boathouse in the late 1960s. Bosacki also leveraged his many statewide political relationships to help forge important trail accesses and routes that would come to define the Northwoods snowmobile experience. Two breakthrough efforts included saving railroad trestle bridges for snowmobile trail use, as well as spearheading the first dedicated snowmobile trail crossing of an active railroad track.
His love of snowmobile competition took many forms, including supporting and working on several race teams and helping launch (and fund) the Snowmobile Hall of Fame. Bosacki's accomplishments over three decades are testament to the power of people who act locally.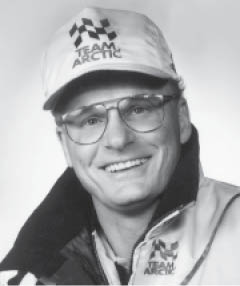 Joey Hallstrom
Date Of Induction: February, 2012
Career Span: 1979-Present
Brands Represented: Arctic Cat
Age At Induction: 51
Combining a deep passion for the sport with the competitive heart of a racer, Joey Hallstrom built the Team Arctic Racing Program into a winning powerhouse, helped launch the iconic Jeep 500 cross country race and strongly influenced several pioneering Arctic Cat snowmobiles. The many accomplishments during his 25-plus-year career at Arctic Cat reflect his strong vision, persuasiveness and force of will.
An independent Arctic Cat terrain racer beginning in late 1978, Hallstrom's career with a reborn-Arctic Cat began first as a racer then as Race Manager in 1987. Recognizing the talent of racers and technicians, and leveraging both in equal measure, Hallstrom built Team Arctic into a dominant force whose success defined the 1990s. Recognizing Arctic Cat's need for race-focused snowmobiles, Hallstrom strongly influenced the creation of the iconic 1990 EXT Special and the legendary ZRs. He was intent to grow the sport of racing, spearheading the "boy racer" Jag Special in 1990 and launching a unique program that offered beginners the opportunity to freely compete on such machines in snocross. He dedicated similar support to Formula III and Mod class oval racing by commissioning small production runs of such chassis by T/S Racing beginning in 1989.
Hallstrom's vision to grow the sport included helping launch the Jeep 500 cross country snowmobile race in 1987 and initiated the first NHRA snowmobile asphalt drag exhibition in 1994. He played key roles at magazine photo shoots and helped produce two books on Arctic Cat's history. Hallstrom transitioned to Arctic Cat product manager in 1999, where he continues to influence the success of Arctic Cat snowmobiles now and in the future.
Marcel Fontaine
Date Of Induction: February, 2012
Career Span: 1970-Present
Brands Represented: All
Age At Induction: 63
From racer to mechanic to race director, Marcel Fontaine lived, loved and dedicated himself to the sport of snowmobile racing for more than four decades. Most often cited for his undying passion for oval racing in Quebec, Fontaine masterfully guided eastern Canadian oval racing for 30 years. His influence extended to nearly all forms of competition as he added snocross, drags, hillcross and watercross to his palette of offerings, while simultaneously building both relationships and coalitions that have preserved and expanded snowmobile racing during good times and bad.
An oval racer from 1970-1976, Fontaine would transition to mechanic, then to race director for CCMQ beginning in 1983. It was as a race director and sanctioning body that Fontaine would fulfill his greatest achievements and lasting contributions. He founded SCM and Eastern Pro Tour, worked with ISR and Quebec race rules committees and raised the professionalism of snowmobile competition throughout North America. In particular, Fontaine's efforts to improve safety and fairness made him a standout race director who was recognized by racers, peers and industry as one of the great leaders of the sport.
Fontaine's honest embrace of the snowmobile racing world as his "family" fostered a deeply loyal base of competitors and officials, and his unyielding professionalism leaves a legacy of success that will be felt for future generations of competitors.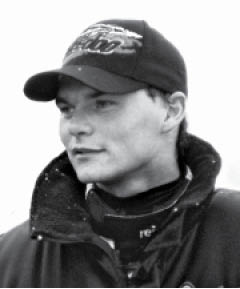 Toni Haikonen
Date Of Induction: February, 2012
Career Span: 1983-2002
Brands Represented: Ski-Doo, Polaris, Lynx, Arctic Cat
Age At Induction: 41
An international racing legend whose raw talent intersected with the rebirth of North American snocross, Toni Haikonen catapulted himself and the sport into new heights beginning in the mid-1990s. Haikonen's fluid style and blazing speed would produce historic wins at nearly every venue, while his easy-to-like personality made him a fan favorite throughout the world.
With a snocross career that began at age 12, Haikonen scored a Finnish National Championship, Scandinavian Championship and hundreds of victories prior to his introduction to North American snocross in 1993. His success in the U.S. earned him a sponsored ride with Ski-Doo/FAST beginning in 1994. In a history-making night at Canterbury Park in Shakopee, MN, in 1995, Haikonen began double-jumping the course's massive jumps to score a monumental victory that simultaneously launched the high-flying era of snocross.
In 1998 Haikonen notched another historic first by winning the inaugural ESPN Winter X Games snocross in Crested Butte, CO, setting the stage for another period of snocross popularity. During his eight years of racing in North America, Haikonen scored dozens of national snocross wins, European snocross championships, MRP championships and was a top finisher in select cross country events. His last victory came in 2000 and he retired from the sport after the 2002 season.