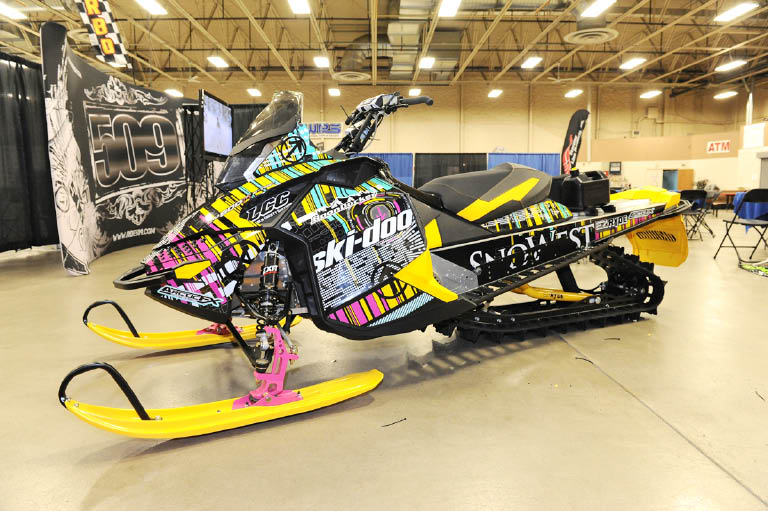 This year's SnoWest project sled has been a long time coming. We changed up our rotation a couple years ago when Ski-Doo was developing the 800 E-Tec engine but hadn't released it yet. We waited for the engine to hit the snow and prove itself—which it did—as a top-tier powerplant. We also waited for the turbo makers to develop a kit for the 800 E-Tec and get some time on it.
The wait is over. So let us introduce Project X, a 2012 Ski-Doo 800 E-Tec Summit 154 (www.ski-doo.com) http://en-us.ski-doo.com/showroom/summit/overview.aspx ready to plant itself among the best of our builds.
We're keeping with the new format of building the sled (for the most part) at the Intermountain Snowmobile Show and the Idaho Snowmobile Show. Building a high-tech mountain sled inside a convention center with crowds, bad light and time constraints provides some interesting challenges, but it's a great opportunity to see how a sled like this gets built one piece at a time.
We approached this sled with a few goals: give it the best ride, a one-of-a-kind look and rideable power that will get its rider anywhere in the backcountry. And we enlisted the skills of Lincoln County Customs' Troy Johnson to build and oversee the project.
Horsepower comes in many forms. The Rotax E-Tec 800R engine is the peak of engine technology in modern mountain sleds. It's clean, fuel efficient and powerful. To make a high-horsepower backcountry tool capable of running with the crowd of mod sleds, we're adding a Boondocker E-Tec 800R Turbo Kit (www.boondockers.com) http://www.boondockers.com/turbo/skidooetec.html. The BD turbo kit features a Garrett 2860 charger with self-contained oiling system and vented no-spill tank, intercooler, tubular torque-building air box with auxiliary fuel injectors, TPS-Smart Electronic Boost Control and Fuel Control Box with stat screens and 3D tuning. The kit also comes with all the necessary clutch components to get you on the snow immediately.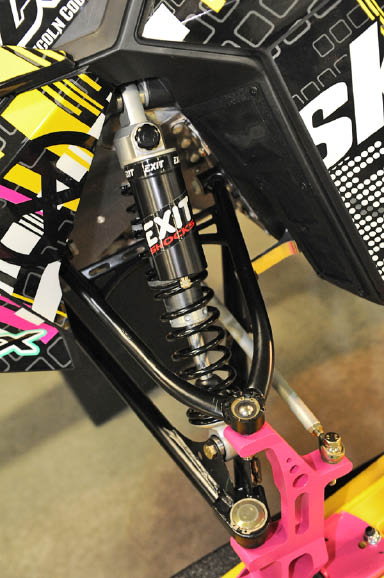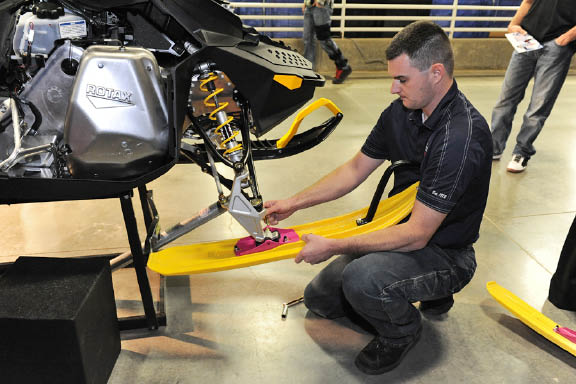 The turbo mounts to the stock exhaust pipe's exhaust flange so there's no cutting or welding to the pipe. Tuning is easy thanks to the Control Box's 3D tuning with uses throttle position, rpm and boost to give the engine precise fuel delivery.
For the top-notch ride quality that we're after with a big mod sled, we installed an EZ-Ryde Rear Suspension (www.ezryde.com) http://www.ezryde.com/store/c-19-153-skids.aspx. The EZ-Ryde skid is a complete suspension that replaces the stock rear suspension. The race-proven EZ-Ryde suspension has been a part of winning teams on the RMSHA circuit for years. The long swingarm gives the EZ-Ryde a unique response feel to every type of terrain, from small stutter bumps to huge shelled out holes.
The front suspension has been upgraded to ARS FX A-arms with triple-rate Exit Shocks (www.exitshocks.com) http://www.exitshocks.com/Front-Suspension_c_98.html. We also added Exit Shocks to the rear suspension to complement the EZ-Ryde. Exit Shocks were designed by the Zollinger brothers, the faces behind ZBroz Racing. This family of world-champion hillclimbers knows what it takes to deliver a race-winning ride (just ask 2011 Stock 600 World Champ Nate Zollinger).
We added a set of Starting Line Products SLT Skis (www.startinglineproducts.com) http://www.startinglineproducts.com/catalog.cfm?pageID=detail&catalogID=4&catID=32&productID=434, as well as SLP's Ski-Doo Aluminum XP Spindles http://www.startinglineproducts.com/catalog.cfm?pageID=detail&catalogID=4&catID=34&productID=1343. The spindles are designed to decrease steering effort on the XP and the SLT skis should give us the perfect blend of precision steering and sidehilling control you want out of a backcountry sled. We also went with some Stomp Grip Pads and Seat Cover from SLP and a billet pull rope handle.
Speaking of the pull rope, we swapped out the stock pull rope for the unbreakable red Fantom Rope.
We put together a custom color scheme with ArcticFX Graphics (www.arcticfx.com) http://www.arcticfxgraphics.com/shop/index.php?cPath=76_144 that gives Project X a one-of-a-kind look. And yes, that's pink on the sled. Ace Powder Coating took care of the color on the hard parts.
Being aggressive in the backcountry means you have to rely on your footing. We worked closely with Lincoln County Customs on its new LCC Hard Parts Running Boards (www.lccwy.com) http://www.lccwy.com/snowmobile_running_boards_and_tunnels.html. These boards feature 1/8-inch thick aluminum with a long sidewall section that rivets to the tunnel side, reinforcing both the tunnel and the running board. The treads are positioned on the rear of the crossbeams in the foot bed, allowing for easy snow removal through the large evacuation holes.
In order to carry extra fuel for the long distance rides, and to give ourselves some additional storage capacity on Project X, we installed a Mountain Addiction TrackRack (www.mountainaddiction.com) http://mountainaddiction.com/trackrack.html with a few different storage options.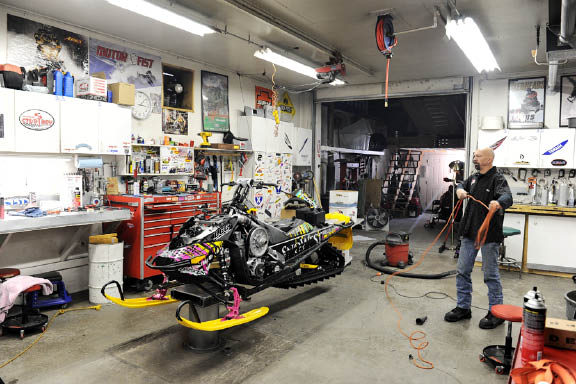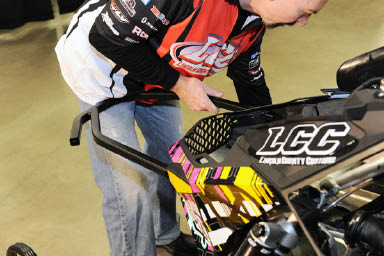 To get the most out of the sled's clutching, we've enlisted a Team Industries Team Tied Secondary and Conversion Shaft Kit (www.teamaftermarket.com) http://teamaftermarket.com/parts-catalog/product/jackshaft-conversion-kit-520179-TH .
We have smashed a stock Summit bumper a time or two, so we know the value of adding a few extra ounces where it counts. Front and rear Bumpers from JT Sports (www.jtpanels.com) http://www.jtpanels.com/bumper.html give the sled a couple more places to grab onto and offer a little more protection for those rides when you're exploring and there's a big stick in the way.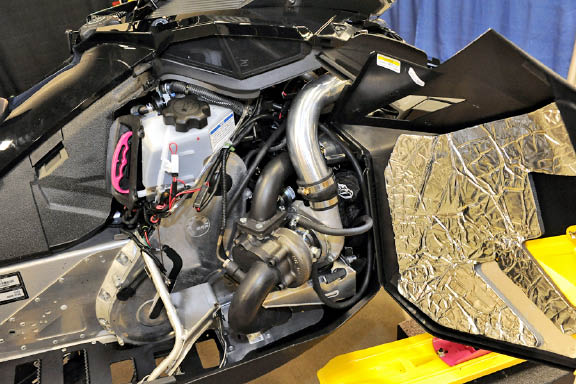 For a custom look and feel at the helm, we installed RSI Handlebars and Risers (www.rsiracing.com) http://www.rsiracing.net/catalog/ , complete with grips, heat elements and RSI's new 5-stage digital heater controller.
Project X Parts List:
• 2012 Ski-Doo Summit E-Tec 800R 154
• Boondocker E-Tec 800R Turbo Kit
• Boondocker Control Box
• Boondocker Electronic Boost
Controller with TPS Smart
• EZ Ryde 153-inch Rear Skid
• EZ Ryde Aluminum Wheel Kit
• Exit Shocks X0 Piggyback
Ski Shocks
• Exit Shocks Rev XP Summit
X0 Center Shock
• Exit Shocks X1 Rear Shock
• ARS FX 36-inch A-arm Kit
• RSI Racing Aluminum
Handlebars & Grips
• LCC Running Board Inserts
• Team Tied Driven Clutch
• Team Conversion Shaft Kit
• Starting Line Products Angled
Footrests
• SLP Billet Pull Rope Handle
• SLP Hot Air Elimination Kit
• SLP Stomp Grip Seat Cover
• SLP Stomp Grip Tunnel Side Traction Pads
• SLP Rev XP Aluminum Spindles
• Starting Line Products SLT skis
• JT Sports Rear Bumper
• JT Sports Front Bumper
• Arctic FX Mainframe Wrap
• Ski-Doo Accessories Yellow Snow Guard
• Mountain Addition TrackRack
• Phantom Rope
Ski-Doo
www.ski-doo.com
Boondocker
www.boondockers.com
EZ Ryde
www.ezryde.com
Exit Shocks
www.exitshocks.com
ARS-FX & ZBroz
www.zbrozracing.com
Starting Line Products
www.startinglineproducts.com
Team Industries
www.teamaftermarket.com
ArcticFX
www.arcticfx.com
JT Sports
www.jtpanels.com
RSI Racing
www.rsiracing.com
Mountain Addiction
www.mountainaddiction.com
Ace Powder Coating
208-528-7357
Lincoln County Customs
www.lccwy.com
307-654-MODS