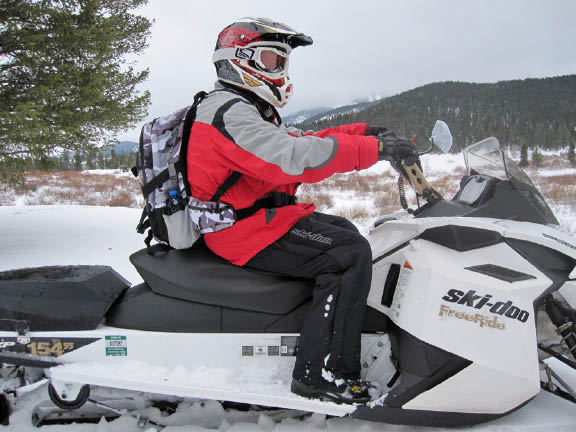 All the major snowmobile manufacturers have their own line of snowmobile clothing and you definitely see sledders wearing clothing representing their favorite brand of sled. It's not too often that we test snowmobile manufacturers' clothing, but we do on occasion.
Last winter, Ski-Doo, which is making a big push in the West with its line of winter clothing, asked us to try its Advanced Tec Helium 30 jacket and highpants.
We sent the first jacket back to the company.
Hold on, hear us out on why. Some of Ski-Doo's clothing uses magnets as the fastening device, you know, like instead of a zipper, etc. Magnets are a bad choice if you wear certain avalanche beacons as they can interfere with the signal of the beacon. If you don't wear a beacon it's not a big deal, although we have found the magnets wreak havoc on hotel keys with a magnetic strip (we found out the hard way) and batteries on iPods, etc. Ski-Doo does have a warning tag on the clothing with magnets alerting the consumer about this.
We got a new set of clothing which offers a zipper and Velcro fastening. No more issues with an avalanche beacon. So be aware when you purchase as to which fastening system you want.
The Advanced Tec Helium 30 jacket and highpants are designed with mountain riding in mind. We would add mountain riding during "specific times of the year." The jacket and pants are a lightweight, breathable shell with no insulation, which means you wear them for spring riding or, depending on the temps where you're headed, varying amounts of layers.
On our first ride wearing the Advanced Tec Helium 30 gear, we didn't layer enough for the temps and while the jacket and pants were definitely windproof and waterproof, we got cold. We take the blame for that one as we didn't prepare properly for the ride. Rides after that were much more comfortable as we layered for the ride and later in the season, just wore the jacket and pants as almost a windbreaker. We really appreciated the light weight of the jacket and pants during spring riding. If it's really cold—and we won't say how cold because some people tolerate cold better than others—you might have to layer quite a bit to stay warm. These clothes are designed for the active rider, not someone who sits on the seat all day.
To Ski-Doo's credit, it doesn't market the Advanced Tec Helium line as anything but a shell and urges consumers to layer.
Features of the jacket include: Sympatex Performance 3-ply brushed poly membrane, sealed seams and logos, underarm and back venting, stretch fabric at the shoulder blades, three water-resistant and zippered outer pockets, powder skirt and micro-polyester collar. The pants have the same shell/membrane as the jacket, along with sealed seams and an inner mesh and fleece-lined seat. The pants also have integrated knee pads and storm gaiter and reinforced crotch.
The Advanced Tec Helium line also features the Recco Avalanche Rescue System, which is basically radar technology built into the garment making a quick location of an avalanche victim possible. Recco is a "passive system," meaning it never needs batteries or maintenance. It's always on.
The Sympatex Performance material allows moisture (read: sweat) to escape. The technical verbage is, "The hydrophilic components of the Sympatex membrane absorb moisture from the body and expel it outwards."
We liked the fit of Helium jacket and pants and most enjoyed wearing them during spring riding because they are so lightweight and still offer some protection from the elements. We also like the looks of the jacket (ours is red).
Downsides? While the labeling is fairly small and indiscreet, the clothing does still say Ski-Doo so if you ride a different brand you probably won't be interested. The price tag, listed below, might raise some folks' eyebrows. If you are not an aggressive mountain rider who works a lot while riding, then you'll want to look at Ski-Doo's other clothing options as this line is definitely just a shell with no insulation.
The jacket retails for $369.99 while the pants are $329.99.
For more information contact your local Ski-Doo dealer or www.ski-doo.com and navigate to the online store section.