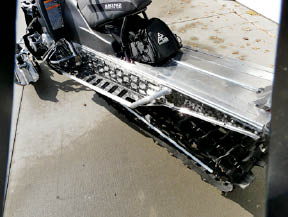 Built by Power Addiction Racing, these tunnels are a solution to the weak running boards on the Polaris Pros. The tunnels are 1.25 inches wider in the back and have a footrest you can use. They come in 155- and 163-inch tunnel lengths for the 2011 and 2012 Polaris Pro chassis.
Custom powdercoating and hydrographics are also available.
The Polaris tunnels retail for $569.
Contact Power Addiction Racing (435) 881-6665 or www.poweraddictionracing.com