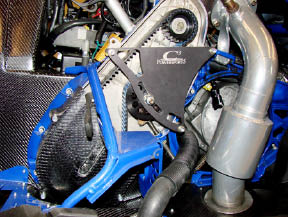 C3 PowerSports' new SyncroDrive system allows you to convert the stock chain drive on your sled to a lightweight belt drive system. This bolt-on, performance-enhancing conversion features the latest carbon fiber Synchronous belt and a C3 carbon fiber guard to reduce weight.
With the SyncroDrive, there is no need for chain oil or lubrication. It reduces rotating mass and resistance, which allows for a more efficient delivery of power to the track. This system also allows you to switch between gear ratios for different types of terrain in order to maximize your power/torque. Switching gear ratios can be done on snow and can take as little as 15 minutes.
SyncroDrive is compatible with the Avid XP Extended chaincase kits. This will allow your XP to fit an 8-tooth, 3-inch driver and 3-inch long paddles. The improved drive belt is stronger and will withstand higher operating temperatures.
The SyncroDrive retails for $1,045.
Contact C3 PowerSports (250) 833-3538 or www.c3powersports.com.
...