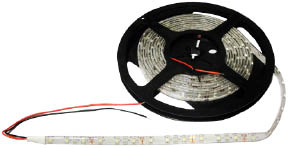 A new and simple interior trailer lighting option is now available in a low power and super bright long LED strip light. Bluhm Enterprises has developed an LED strip that has a white backing and square flat super bright SMC LED to give maximum light inside an enclosed trailer or any other interior 12-volt area.
The LED strips are long enough for the typical enclosed trailer, are available in 12- and 25-foot lengths and only draw a fraction of what traditional interior lighting would. The bright thin LED strips provide enough light to light up almost any trailer inside.
The Brite-Lites Long LED Trailer Strips install on any flat smooth interior surface with 3M 2-way adhesive and a simple two-wire connection. The flexible strips can be bent to form to any smooth surface.
Retail pricing starts at $99.99 for the kit.
Contact Bluhm Enterprises (612) 812-5191 or www.britelites.net.