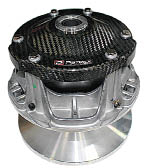 Patrick Custom Carbon has used Indy Car technology to design and develop carbon fiber clutch covers for Polaris P85, Comet 102C, Belmont 4 Post and Arctic Cat clutches. The Polaris P85 carbon fiber clutch cover with titanium bolts fits on any year and can be done while mounted on the sled.
The average weight savings is approximately 300 grams of spun weight vs. stock. The lighter weight allows for faster acceleration.
Contact Patrick Custom Carbon (815) 721-5150 or www.patrickcustomcarbon.com.