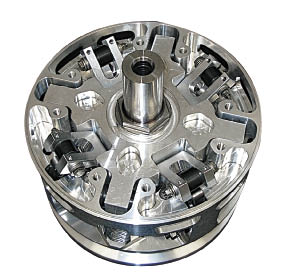 The new billeted TAPP primary clutch has been designed to be a Totally Adjustable Performance Product with high tech features that will TAPP out your competition when it comes to performance and on snow adjustability for your sled. Whether it is for trail or mountain riding, boondocking, racing or anything in between, a TAPP primary will improve shifting, economy and performance over any other clutch.
• Key features of the TAPP Clutch include:
• Weights and ramps are easy to adjust and accessible without any need to remove from motor or disassembling clutch when replacing weights or ramp profiles.
• Ramps have clicker style bolts with 6 positions and can be set in up to 21 different positions because of the four arm clutch design, i.e., two opposing ramps can be set at No. 2 while the adjacent ramps are set at No. 3 for very fine adjustment.
• Weights can be adjusted the same way with opposite amounts of weight for fine adjustments and easy changes in a few moments.
• Rollers are available in three sizes, allowing for additional tuning.
• Compact design for tight spaces with multi-angle sheaves offering stronger and smoother acceleration.
• Extensive venting provides more surface area, resulting in cooler running temperatures and extended belt life.
• High tech bushing materials withstand extreme heat and provide many miles of low maintenance operation.
• The centralized mass/low inertia design provides unmatched throttle response.
• Designed for use with factory clutch bolt and puller.
• Comes complete, ready to bolt-on and ride in one of three configurations: stock, mid and high horsepower.
The TAPP Clutch improves on the simple roller weight concept used in the past and provides an incredibly smooth progressive shift that is very easy to tune.
Currently TAPP Clutches are shipping for all Ski-Doo, Yamaha and Arctic Cat 4-stroke sleds from stock to high horsepower turbo applications. Testing is underway and plans call for a release of stock and 2-stroke turbo clutches in December 2011.
The clutches will retail for $1,795.
Contact C3 PowerSports (250) 833-3538 or www.c3powersports.com.