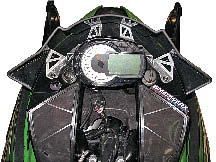 This is as simple as it gets for adding serious horsepower to your 1100 ProCross/ProClimb/Z1 Turbo sled. Speedwerx has developed its own software that allows the company to reprogram the stock ECU to adjust fuel, boost limits, timing and waste gate activation/deactivation rpm.
With this software there are no limits to what can be done to unleash the most power from your 1100 ProCross/ProClimb/Z1 Turbo. All of these great features allow Speedwerx to produce up to 290 plus horsepower on the stock 1100 ProCross/ProClimb/Z1 Turbo. ECU boxes sent in will be remapped within one business day for a fast turnaround.
For those who cannot wait, Speedwerx has core boxes on hand ready to be sent out.
ECU mapping is available in two different forms. The single map version allows Speedwerx to put any single map in your box or its multi map function allows the company to run up to four different maps at one time and you can select on the go (real-time) which map you would prefer to run. Both setups look stock and can easily be hidden from your competition.
The base maps that are available include:
• 87 octane safe trail map 177 hp w/Speedwerx lightweight muffler
• 91 octane safe trail map 210 hp w/Speedwerx lightweight muffler
• 91 octane safe trail map 240 hp w/Speedwerx lightweight muffler
• 110 plus octane or Speedwerx Meth injection lake race 260 hp w/Speedwerx lightweight muffler
• 114 plus octane 290 plus hp with Speedwerx waste gate mod
(651)982-6020 – www.speedwerx.com