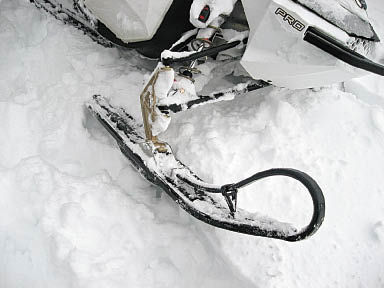 We had a chance to try out a prototype trail ski from Providence, UT-based Simmons Skis that took the Gen3 concept of the modified dual keel/concave design with a shorter outer keel. The ski was about three inches narrower than the Gen3's 8-inch width, which made it a little more attractive.
We put them on our Ski-Doo Summit Freeride to see how they would affect handling and sidehilling.
We found the narrower skis were tremendous for sidehilling and handling down the trail. However, once seeing how aggressive the skis performed, we dropped the limiter strap all the way to reduce ski pressure. This reduced some of the steering effort without sacrificing any of the handling or control.
T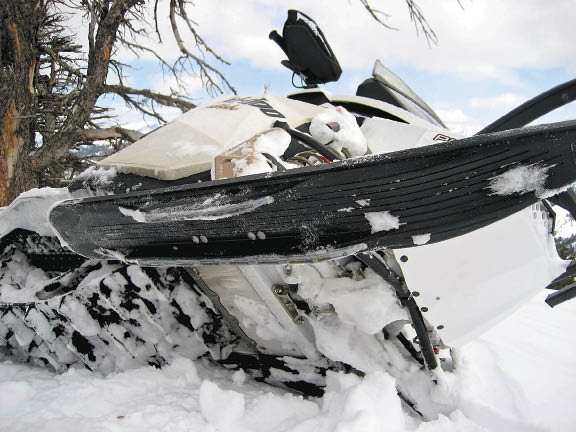 he big test for the skis was in the powder and across sidehills. In dry snow, although we did feel less flotation, the skis still functioned as you would expect they should. However, since we were testing them in the spring, as the day progressed and the snow turned to a wetter texture, the handling became heavier, requiring more effort that what we were experiencing with our stock skis.
Our conclusion is the narrow skis were perfect for sidehilling. When it came to cutting through the powder, the skis also performed outstanding. However, since these are the narrower skis, flotation was compromised. Late in the day when the snow started to soften up, the skis had a tendency to dive a bit. This would make us conclude the Gen3 version would probably perform better when it comes to flotation. Perhaps the standard Gen3 skis are the best of all worlds.
Company: Simmons Flexi-Skis
Contact: www.flexi-ski.com