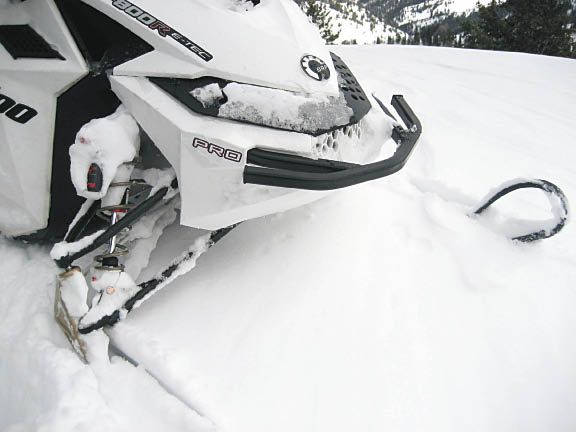 Snowmobile bumpers are designed for two specific purposes: first, to withstand a bump; second, in case of a big bump, bend before the bulkhead.
However, you still want a bumper that can take a modest bump without bending. And we found the strength of Ski-Doo's bumper just a little on the light side. That's why we were pleased to discover JT Sports Rev XP Heavy Duty Bumper.
Made from one-inch square aluminum, the JT Sports bumper is about twice the thickness of the stock Ski- Doo bumper. Bumpers come with a semi-gloss black powdercoat finish or you can request an unpainted bumper that you can polish.
The bumper design provides an additional 1.5 inches of nose clearance, making it a little easier to get a hold of it. It also offers a unique design that is very attractive, yet designed to give some bump absorption in case of impact.
The bumper was easy to install. It offers excellent handles for grabbing the front of a sled in case you need to roll your sled out of a hole. It costs about $135. JT Sports also offers a uniquely designed rear bumper as well.
Company: JT Sports, Kalispell, MT
Contact: www.jtpanels.com