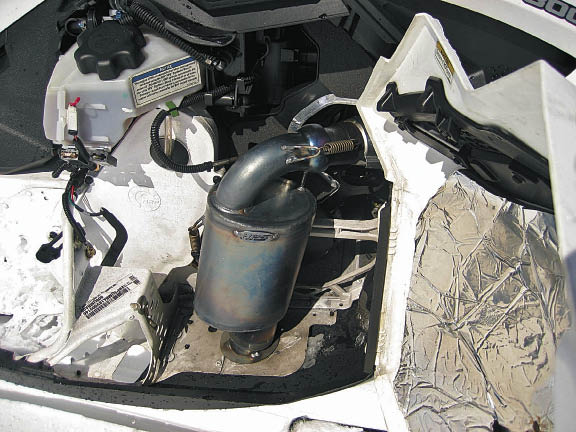 One of the easiest and most affordable ways to improve the performance of your snowmobile is to add a lightweight muffler. This past winter we installed an HPS muffler on our stock Ski-Doo Freeride and were extremely impressed on how simple it was to bolt on performance.
The HPS muffler is 12.2 lbs. lighter than the stock muffler and takes up about half the space. You will find it more challenging to remove the stock muffler than to install this one. And once you fasten it in place, you have accomplished two things—reduced frontend weight and increased performance.
We could talk horsepower numbers, but what really matters is what you actually feel when you grab the throttle. What we found was that once the rpm hit around 6,000 then the sled really comes to life. It makes maximum power (on the 2011 Freeride) between 7,900-8,000 rpm.
We were able to put about 80 miles of hard deep powder riding on the HPS muffler at elevation. This is where you want performance instantly. And by taking 12 lbs. off the nose, you find it easier to throw your sled around.
The HPS muffler is a little louder than stock. In deep snow, you will hardly tell the difference. It has a nice base tone yet not too loud. On pavement or a hard surface, however, it does get your attention.
Installation is very basic. It fits right in with plenty of room to spare. The biggest challenge was removing the stock pipe on the Ski-Doo. There is one spring that is nearly impossible to reach since it's inside the pipe and has no good access.
The lightweight HPS can costs just less than $350. For more information contact Scott Hillam at (208) 357-3343.
Company: HPS
Contact: www.teamhps.com