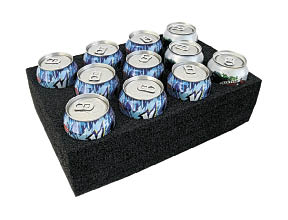 Keeping your drinks from getting beat up and turned into grenades is the reason for these new Foam Drink Holders. Using long-lasting water-resistant closed cell foam, R&M has developed a drink holder that won't retain water, holds up to 11 drinks or can be modified to hold fewer drinks and fit your individual needs.
Great for tunnel bags, backpacks, coolers, seats, etc., and is made in the USA. The Drink Holders retail for $13.95.
Contact R&M Lightning Products (801) 467-2442 or www.rmproducts.info.