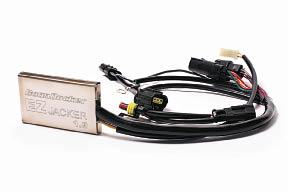 Unleash the maximum horsepower on pump fuel from Arctic Cat 1100 Turbo models with the new BoonDocker EZ Jacker 1.9 electronic module. Building on prior knowledge gained during the development of the original Z1 turbo Hi Jacker, BoonDocker has created the new EZ Jacker 1.9 module.
The EZ-Jacker requires no tuning or adjustments and is designed for users looking for a simple yet effective performance upgrade that will provide maximum power on premium pump fuel.
The EZ Jacker easily plugs in to factory connectors to make performance-enhancing electronic boost and fuel adjustments. The electronics are housed in a compact waterproof metal enclosure that is a similar size to a credit card. The EZ Jacker is also equipped with a handlebar-mounted rapid response button that when pressed at low turbo boost conditions causes boost to increase faster, leading to quicker acceleration.
Priced at $399.99 the EZ Jacker is a simple and inexpensive upgrade for the 1100 turbo. The EZ Jacker has been thoroughly tested and proven to increase power on all models equipped with Arctic Cat's 1100 turbo 4-stroke twin cylinder engine including the new 2012 models. The Hi Jacker 2.0 is also available for users looking to further increase horsepower and tune the machine's boost and fuel system to match specific performance upgrades.
Contact BoonDocker Performance (877) 522-7805 or www.boondockers.com.