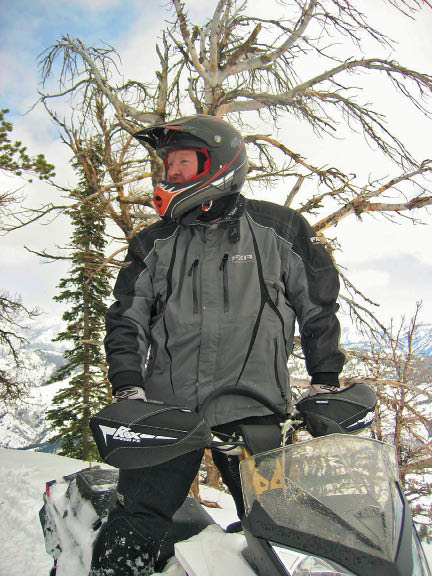 This past winter we did an extended comparison and product review between the Klim Powerxross Pullover and Togwotee Bib with the FXR Vertical Attack Bib and Jacket. Both brands are specifically designed for aggressive mountain riders.
Usually during the season we tend to gravitate to one product or the other. However, this past winter we found that both brands delivered what they promised—functional protection and comfortable fit.
Similarities—Both FXR and Klim recognize the need to provide a lightweight breathable suit for active western riders, while still offering enough insulating features to keep one warm on those cold mornings. Although both offer styles of jackets which are designed to maintain body warmth in a cold environment, the Powerxross and Vertical Attack jackets are fairly light and work best when the rider is more active.
In other words, if you're merely sitting on your sled and driving, you may get cold. If you're active and riding, you will likely generate enough body warmth to keep you comfortable. Your riding style will dictate whether you should consider these jackets or whether you should consider something of a heavier design. And naturally, layering is a preferred option to both.
Likes—Both are breathable and wear well in mountain riding conditions. Both are just light enough that you can layer on colder mornings or if you're spending a bunch of time on the trail. Once in the trees or when temperatures warm a bit, you can remove your inner layer and be comfortable for the rest of the day.
Dislikes—Whoever thought of designing the bib zipper to rotate from the hip to the back of the heel must have been extremely flexible. But for us overweight, out-of-shape guys, twisting and turning our upper body to reach the back to our heels after riding all day is not an easy thing to do.
In other words, when you get dressed (all nice and dry), you are starting in an area that is easy to reach (at the side of your hip) and you pull the zipper down (which is easy since you're pulling down against something that is secure). But at the end of the day when you are tired and wet, you start in an area difficult to reach (the back of your foot) and you are pulling up against a frozen zipper which becomes less secure the more you pull.
Bibs
If you like functional pockets, both Klim and FXR offer you standard pants pocket plus the cargo pockets that are positioned midway between your waist and knee. The FXR may be slightly lighter weight, but both offered sufficient protection throughout the winter. Both have distinguishable features that make each special. The FXR has belt loops and a built-in waist adjustment to offer a slimmer fit. The Klim bibs feature pockets on the chest area that are perfect for glasses or cell phones.
Both offer leg gators. The Klim gators tend to be a little more sufficient for keeping the snow from slipping up the legs when stomping around in the powder. The FXR bibs are probably designed more for trail riding protection. Also, both bibs provide knee padding.
Jackets
As for the jackets, we had two distinct styles. The Klim is a pullover with a large kangaroo pouch in the front. The FXR is a standard jacket which zips up the front. (Both manufacturers offer both styles.) The jacket style lends itself to smaller pockets … but there are four of them on the coat.
Both jackets feature arm gators that allow you to hook your thumbs in the inner liner and keep the wind and cold from sneaking up the arms. Both also zip up the front collar to make a mock turtle collar protection. Both also provide ventilation zippers under the arm pits.
Each set of clothing has its strengths and very few, if any, weaknesses.
The Klim Powerxross Pullover retails for $279.99 and the Togwotee Bib for $389.99. The FXR Vertical Attack Jacket retails for $299.99 (although at the time of our deadline it was on sale for $259.99 on the FXR website) and the Vertical Attack Bib for $299.99 (on sale for $279.99).
Contact Klim at www.klim.com.
Contact FXR at www.fxrracing.com.