Brite Lites Super Thin

LED Strings
A new and revolutionary lighting option is now available in a super thin and bright LED string light. Bluhm Enterprises has developed an LED String that is only 4 mm wide, less than half the width of a typical LED strip. The new LED Strings also have more LEDs per inch to give maximum light on your project to light it up.
The LED Strings come in a mega pack with eight pieces (4 12-inch and 4 8-inch) and are so thin you can hide them almost any place. The Mega pak is enough to light your vehicle or use a few pieces on several vehicles. The Brite-Lites Super Thin LED Strings install on any flat, smooth interior surface with 3M 2-way adhesive and a simple two-wire connection. They work great on snowmobile, motorcycle, ATV, UTV, boats or any 12-volt DC application.
The strings are available in red, blue, green, yellow, white and purple. Retail pricing is $124.99 for the kit.
Contact Bluhm Enterprises (612) 812-5191 or
Comp, Mechanized

Boots By Trukke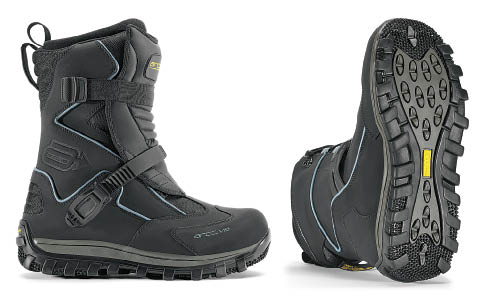 When the weather drops to minus 40 degrees F and the powder is thigh high, the new Comp and Mechanized Arctiva Boots by Trukke are just the thing to keep a rider warm.
Featuring a new ratcheting forefoot strap, these boots allow the rider to adjust the fit to their own individual comfort level while providing superior heel hold-down when necessary. The unique tread pattern on the sole provides a firm platform for aggressive riding and superior traction on icy surfaces but is also rockered for easy walking when off of the sled.
Both the 10-inch high Comp Boot and the 12-inch high Mechanized Boot feature a removable liner that wicks moisture away from the foot and a convenient speed-lacing system to ensure a snug fit.
The 2012 Arctiva Comp and Mechanized Boots by Trukke will be available from
your local Parts Unlimited dealer beginning this Fall. The boots are available in men's sizes 6-13. The Comp Boot retails for $165 and the Mechanized Boot for $175.
Contact Arctiva www.Arctiva.com.
Mirage Introduces

Blackout Package
In order to provide customers with a truly unique snowmobile trailer, Mirage Enterprises is releasing a bold color scheme package that will be available to customers in time for the new snowmobile season.
Thousands of sledders are already familiar with Mirage's successful Xtreme snowmobile and sport trailers. Now, for the 2011 season, Mirage is offering an options package truly unique in the industry: The Blackout Package.
The Blackout Package features black VHB aluminum exterior with black ATP trim, black front cap, black front and rear wraps, a black ATP stoneguard and, depending on the package, black aluminum wheels. Additionally this package includes Mirage's new "Stygian" exterior graphics, and for those so inclined, "Stygian Reaper" exterior graphics are available as an option.
The inside of the blackout trailers feature black interior trim and black ATP cabinets (depending on the base options package ordered).
The traditional color scheme Xtreme trailers, featuring the innovative, partial side wall front ramp design, will be available to customers who prefer a more traditional look.
Contact Mirage (208) 461-7776 or
Divas SnowGear Exclusive Women's Line
Divas SnowGear has unveiled its exclusive women's line of snowmobile gear. Divas worked to find the perfect combination of feminine, stylish and well-built women's snowmobile gear. The clothing line includes the Divine Jacket and Divine Bibs.
The jacket features a durable waterproof and breathable 420 D nylon shell, 200 gram slim polyfill for a thin silhouette and warmth, front zipper with magnetic snap closure, reflective piping on rear sleeves, underarm vents for temperature regulation, removable hood, removable hood fur, removable and adjustable belt, interior vertical zip pocket with headphone port, large interior mesh pocket, interior powder skirt, internal drawcord at waist, interior lycra wrist gaiter with thumb hole, soft, micro fleece interior collar, YKK zippers and D-ring. The jacket is available in sizes XS-3XL and retails for $199.99.
As for the bibs, they feature a durable waterproof and breathable 420 D nylon shell, 200 gram slim polyfill for a thin silhouette and warmth, zip off bib that converts to pants, adjustable belt and suspenders, adjustable inseam, side leg zippers with narrow internal and external flaps, interior boot gaiter, YKK zippers and D-ring. The bibs are also available in sizes XS-3XL and retail for $199.99.
Contact Divas SnowGear (888) 416-7552 or
Winter Armor Pro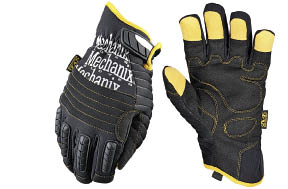 Exposed hands and raw weather just don't mix. For the guy who still needs to work when the mercury drops, Mechanix Wear has created the Winter Armor Pro. Featuring the company's specially designed, high abrasion Material 4X on the thumb and fingertips and an internal, anatomically placed palm padding, this glove allows you to complete tasks that require the dexterity of bare hands without them actually being bare.
Fleece-lined with 3M C-40 Thinsulate insulation and encased in a water repellent nylon shell, the Winter Armor Pro provides maximum warmth and wind resistance. Additional protective features include an embossed Neoprene thumb panel for flexibility and warmth, full length Thermal Plastic Rubber on the fingers and flexible accordion foam knuckle panel.
Contact Mechanix Wear www.mechanix.com.
Polaris IQ Dash Panel Kit
RSI's Polaris Dash Panel Kit allows you to separate the thumb lever heat level from the hand warmer heat level. The stock Polaris switch turns on your hand warmers and thumb warmer at the same time with the same heat setting.
The RSI kit includes a rocker switch that separates the thumb lever heater from the hand warmer heat settings. Now you can customize your heat settings on your hand and thumb warmer individually. The kit includes a rocker switch, aluminum mounting plate and all necessary hardware. Its simple design installs in minutes and fits Polaris IQ models with Pro Taper handlebars. The kit retails for $39.95.
Contact RSI Racing (952) 225-0452 or www.rsiracing.com.
Charmac Tri-Sport

Series Trailers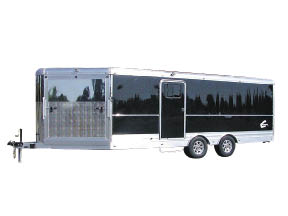 Tri Sport Trailers from Charmac have a host of features that include tube chassis, walls and roof supports, H.D. extruded roof, corner roof castings, a one-piece aluminum roof, white Lauan walls, floor tie downs and the list goes on.
But it's one of the options available for the Tri-Sport Series that might catch sledders' attention. Available as an option on the new 2012 Tri -Sport Series is an additional 12-inch axle spread which provides for a more stable ride on longer, elevated trailers. It is manufactured with two single wheel fenders and provides an appealing look for the most discriminating buyer.
Contact Charmac Trailers (800) 544-7904 or
APP Tunnel Stiffener
Absolute Power & Performance has designed stylish tunnel stiffeners for the new Polaris Pro chassis. The tunnel stiffeners will fit 2011-12 Pro RMK sleds and come in red or black.
Contact Absolute Power and Performance
(780) 460-9101 or www.abspow.ca.
CMX Pro Front Suspension Kit
A lot of thought and effort went into the development of the front suspension geometry of the new CMX-X. The company ran several different caster angles on its prototype CMX-X. The best setup the company found was 16 degrees. Stock Polaris Pro RMKs run 26 degrees. CMX found that by moving the spindle caster angle to 16 degrees from 26 degrees, the effort required by the rider was reduced significantly. The sled turned sharper and had less push while turning in the powder and even in the corners on the trail.
The way CMX accomplished CMX-X front suspension geometry was by creating its own titanium A-arms and CMX billet aluminum spindles. The stock Pro RMK spindles are nice parts, but the problem is that when you go from 26 degrees to 16 degrees of caster angle, the steering arm on the spindle needs to be relocated. The reason this is important is because if you don't relocate the steering arm, you will end up with a tremendous amount of bump steer.
CMX offers a complete front end kit for the Pro RMKs, which consists of CMX titanium A-arms (6.5 lbs. lighter than stock), CMX billet aluminum spindles, Raptor Performance Shocks (with 20 position piggyback reservoirs) and new 8-inch wide Sly Dog skis.
Contact Crazy Mtn. Motorsports (406) 686-4921 or www.crazymtn.com.
Exit Shocks For 2012 Cats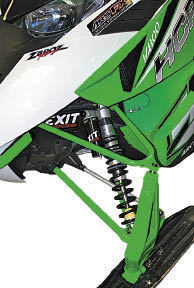 Zbroz Racing is releasing its Exit line of shocks for the new 2012 Arctic Cats. Zbroz has spent a lot of time testing and tuning its shocks for the new chassis. With the help of Team Arctic Cat and Tapio Racing, these shocks scored three victories at RMSHA events this season.
Zbroz has also been working hard to help the new Cats work better in everyday backcountry terrain and trail riding with its Exit shocks. All Exit shocks are tuned to rider weight and ability for the best possible ride quality. Why settle for an off-the-shelf shock when you can have a truly custom-built shock?
Available for the font ends in three options depending on shock length.
X0 triple rate (no external adjustment knob) $850 per set.
X1 triple rate (external compression adjustment knob) $1050 per set
(ProClimb HCR and ProCross shock length)
X2 Triple rate (both external compression knob and rebound adjuster knob) $1395 per set
Exit shocks are also available for the rear coil over suspension.
X0 front track shock (dual rate with no external adjustment knob) $450
X1 front track shock (dual rate with external compression knob) $575
X1 rear track shock (single rate with external compression knob) $595
Contact Zbroz Racing (435) 753-7774 or www.zbrozracing.com.