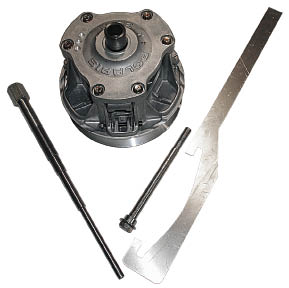 Fastrax Motorsports is in full production of custom P85 primary clutch conversions for all 600-800cc M-Series and 1M chassis 800-900 Arctic Cats.
This is far more than an old school taper bore job. FTX clutches eliminate a bunch of the vibration and shaking, they upshift more aggressively and, most importantly, they stay in one piece and are easy to maintain.
The uncalibrated kit includes: new precision machined primary, set up for your belt, balanced; custom alignment bar; custom puller; custom bolt; and alignment shims.
The calibrated kit includes all the above along with OEM weights and spring for your application.
The uncalibrated kit sells for $880 and calibrated kits sell for $995.
Contact Fastrax Motorsports (253) 848-0908 or