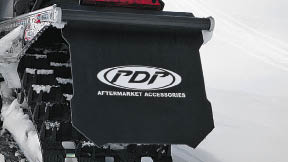 With more than three years of testing and development prior to Proven Design Products' snow flap line launch in 2008, the company caught the attention of some of the most respected names in the aftermarket snowmobile community such as Timbersled, Fastrax Motorsports and Zbros/Exit Shocks. Proven Design Products now supplies those companies with their own brand of snow flaps.
The Michigan-based company is also an approved and recommended supplier of race snow flaps for RMSHA as well as Arctic Cat's hillclimb team. The snow flaps are made from low density polyethylene and use screen printing to add logos, etc., not cheap stickers.
PDP snow flaps are rated for temps of minus-60 degrees F while under stress. The company also claims that with its Pro RMK snow flap, it's not uncommon to see a drop of an average of 20 degrees F in water temperatures.
Contact Proven Design Products (248) 303-8777 or www.provendesignproducts.com.