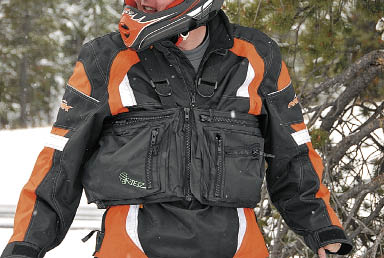 Lightweight is king in mountain riding. But with all the safety gear (avalanche packs, shovels, probes, etc.) we should be riding with, sometimes you feel like a pack horse.
We found something that might serve some of your lightweight needs—the Ribz Frontpack. This is an innovative new complement to or substitute for a backpack. The Ribz Frontpack is capable of carrying more than 600 cubic inches of gear and fits comfortably and securely around your ribcage. It positions the contents so that they do not impede torso or arm movement and can be accessed from the front.
The Ribz Frontpack is made from 210D waterproof Ripstop nylon and weighs 11 ounces. It features four external zippered pockets with four additional internal pockets providing plenty of storage options. The shoulder straps are extra-wide and made of heavy-duty nylon, designed to evenly distribute the weight yet remain comfortable when wearing with an additional backpack. It retails for $64.95.
For more information, visit