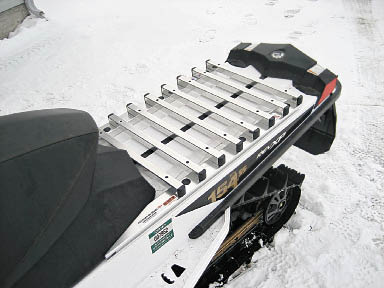 If you're looking for a way to pack a little extra fuel or equipment on your snowmobile, you may want to take a look at the Destination Series Cargo Rack System from Up North Technologies.
This past year we added the Cargo Rack to our Ski-Doo Summit. Not only did it allow us an easy place to attach gear, it also added to the looks of the snowmobile.
This high quality system is lightweight with a chrome finish that offers a variety of locations to secure your load. It is easily attached to your sled through four anchor bolts. The instructions provided by Up North Technologies are very simple to follow, making installation a breeze.
For more information, contact Up North Technologies at