Big Bore Kit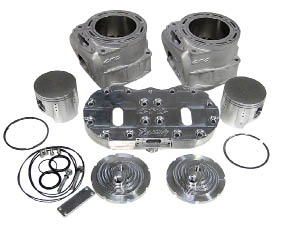 This is a complete bolt-on kit for those looking for monster horsepower and torque. The kit includes: new CPC 11 port high performance cast cylinders, billet head with your choice of compression inserts, 102.5 mm forged pistons and ring kits, gasket, O-rings and hardware.
The kit is available for Arctic Cat 2007-11 M1000, Crossfire 1000 and F1000. The kit retails for $2,999.
Contact Cutler's Performance Center (801) 224-5005 or www.cpcracing.com.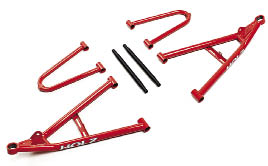 This kit has lightweight chromoly A-arms for Polaris and Ski-Doo sleds, removing up to 3 lbs. of weight. The kit features tig-welded construction, Delrin pivot bearings and durable black textured or red powdercoated finish (depending upon application).
Each kit includes upper and lower A-arms, all bushings installed, a pair of lightweight HRP tie-rods and new ski spacers, allowing for 40-, 41- and 42-inch ski stances.
The kit fits 2005-11 Polaris RMK, Dragon RMK and Pro RMK models; and 2008-11 Ski-Doo XP models. The retail price is $475.
Contact Holz Racing Products (360) 398-7006 or
Seat
This lightweight seat is for the IQ chassis. It has a built-in storage compartment for tools or NOS. It is 5 pounds lighter than stock and works with 3- or 9-gallon tanks.
Contact Power Addiction Racing (435) 881-6665 or www.poweraddictionracing.com.
With a clean, streamlined style, the highly technical Impulse Parka marks the leading edge of advanced all-condition design and function.
Featuring a potent combination of Gore-Tex Performance Shell fabrics and 100 gram Thinsulate Insulation, the Impulse Parka is the king of cross-over outerwear.
Ergonomically correct articulation in the arms and elbows ensure an unrestrictive fit for any terrain. Top-end features include an integrated, optional-use powder skirt, dual-pull pit zippers with internal storm flaps for controlled ventilation and a fully adjustable, integrated, insulated and waterproof hood.
The Impulse also comes in a complete range of kid's sizes. And there are plenty of pockets galore, including two full-size hand pockets, one external chest pocket and two internal chest pockets which give plenty of carrying capacity for all your gear. All cargo areas utilize brushed tricot lining to aid in warmth and to offer a soft protective layer for delicates. Headphone-securing loops and audio port come standard.
The Impulse is available in sizes XS-3XL for adults and 4T-12 in children. Colors available are: black, blue, red and tan.
The parka retails for $249.99 (adult XS-2XL); $279.99 (3XL); and $189.99 (kid's 4T-12).
Contact Klim (208) 552-7433 or www.klimusa.com.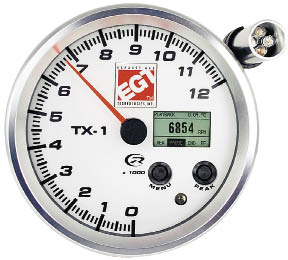 This tachometer records and replays the run at 1, 5 or 10 minutes. It accepts AC or DC voltage and is available in 4-inch dash and 4.5-inch pedestal mount, with optional shift/alarm light. Great for vintage drag or ice oval racing.
The tach retails for $339.95
Contact Exhaust Gas Technologies (800) 348-4678 or
Dig deep with new 1.630-inch and 1.860-inch studs. The chisel tooth "penetrates like a dagger and scoops like an excavator." The longer stud is designed for hillclimb/drag and ice lake rac­ers. The overall installed heights are 1.88-inch and 2.11-inch. Both lengths have a 5/16-inch shank and a 15/16-inch head and come in 48-piece packs that include Woody's aluminum Big Nuts. When using studs of these lengths it is essential to have proper clearance and tunnel protection.
These studs are for competition use only.
Contact Woody's (989) 689-4911 or www.woodystraction.com.
These seats are fabric covered, lightweight aluminum tube frames, with a removable cushion top for complete visible access to a storage compartment that extends the entire length of the seat. Storage compartment can be used for shovels, probes, saws, first-aid kits, etc.
Axess Seats fit Arctic Cat M Series, HCR, Crossfire and CFR; and Ski-Doo XP, Rev and RT and retail for $549.95
Contact R&M Lightning Products (801) 467-2442 or
The So-Low Deck is the safest and fastest single-sled loading system. Load and secure your sled or ATV in less than a minute.
With the So-Low Deck, you don't risk getting hurt or damaging your equipment with conventional ramps.
The So-Low Deck is equipped with an auto locking ramp system, making it impossible for the ramps to detach from the deck. You will not find that feature on any other deck.
Using the So-Low Deck is simple: open the ramp door, roll ramps out (automatically locks in place) ride on and roll the ramps back in.
Contact So-Low Deck (406) 295-5770 or
Tom's Snowmobile Service offers a Fox Zero Pro rear suspension kit for all 2006-11 Ski-Doo MX Z Renegades.
Each kit includes new springs to match your riding style. The suspension kit improves the sled's ride over the stock configuration. Each kit retails for $625.
Contact Tom's Snowmobile Service (530) 862-1128 or www.shoptomssnowmobile.com.
Power Addiction

Racing Engines
If you're looking for big horsepower and torque, look no farther. Power Addiction Racing is offering something that is a first of its kind. Now available is an all billet construction engine featuring an all billet crank and crankcase, with displacement ranging from 1000-1100cc for a twin and 1500-1650cc for the triple.

This twin motor can either be used with fuel injection or carburetors. Twin engine kits are also available for direct drop into the Polaris Pro chassis. The triple is setup for carburetors.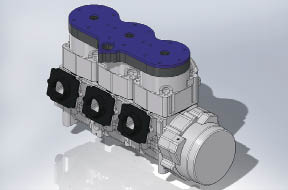 Contact Power Addiction Racing (435) 881-6665 or www.poweraddictionracing.com.