Klim Storm Bib
The Storm Bib provides the protection offered by a full bib and is highly breathable, durable and carries the Guaranteed To Keep You Dry promise. The bib also features articulated "Fast Forward" patterning while high-impact ventilation provides extreme flexibility and comfort.
Other features on the Storm Bib include: heavy-duty nylon with three-layer technology, Gore-Tex fabric, high-impact ventilation, more visibility through 3M Scotchlite reflective trim, non-restrictive gusseting, full-length side zips, two hand pockets and two chest pockets, removable anatomically-shaped knee/shin pads, double stitching, glove-friendly zipper pulls, a highly functional gaiter design, non-slip adjustable suspenders, double-head center zipper and moisture-wicking hanging liner.
The bibs come in black and are available in sizes: XS-3XL regular and S-3XL tall. The suggested retail prices are: XS-2XL regular $339.99; 3XL regular $385.99; S-2XL tall $359.99 and 3XL tall $405.99.
Grip Stay Adhesive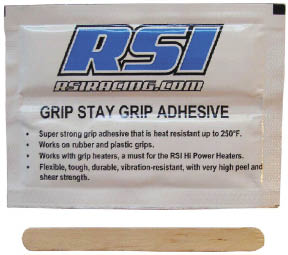 RSI's Grip Stay Adhesive will glue your grips onto your snowmobile so they won't spin or slide off.
This grip adhesive is specially blended to offer the best performance as a snowmobile-specific grip glue. It is flexible, tough, durable, vibration-resistant and offers very high peel and shear strength. It can withstand grip heater temperatures of up to 250 degrees F without breaking down. The glue works with any type of grip material and comes in a double bubble dispensing pack. There is enough adhesive to glue on grips up to 8 inches long. The retail price is $9.95.
Contact RSI Racing (952) 225-0452 or www.rsiracing.com.
Strap Sack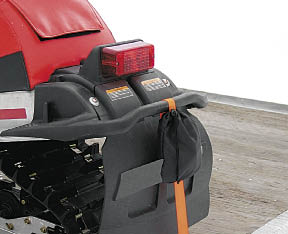 Are you tired of the tie-down strap mess? Then consider the Strap Sack, a new tie-down strap storage system. The Strap Sack protects the ratchet and holds the excess strapping within the bag, preventing extra tying, flapping or dragging.
After use, the Strap Sack is its own storage system, preventing tangling with other tie-down straps. There is no need to purchase additional straps. Strap Sack installs in seconds to any existing tie down and becomes part of the strap.
The Strap Sack is made from quality nylon fabric and is available in red, orange, blue, camouflage and black. Made in the United States, this product costs $5 each.
Contact Strap Sack (541) 390-4697 or www.strap-sack.com.
New Sure Grip Dollies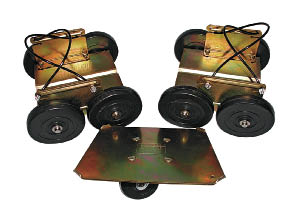 Minnesota-based Recreational Necessities has successfully solved snowmobile mobility challenges for 15 years with its true all-season, versatile and durable Sure Grip Dollies. They work like a wheel kit, allowing snowmobiles to be easily driven under their own power, even on grass and gravel roads. And with the aid of the swivel track dolly you can effortlessly roll a sled by hand.
Sure Grip Dollies also eliminate the damage from carbides gouging the garage floor, driveway, trailer bed and your lawn.
New this year on the Sure Grip Dollies are: a modified wheel design with more durable ribbed reinforced center hub; thicker shock absorbing center wheel core, which delivers superior shock protection from trailer ramps and sudden impact; and wider tread width for a larger footprint on soft terrain.
The new Sure Grip wheel enhances the range of your drivable possibility and meets the demands of authorities such as the U.S. Marine Corp., National Resources Canada, U.S. Border Patrol and many others. The product is backed by a full warranty and is made with pride in America
Sure Grip Dollies retail for $99.99
Contact Recreational Necessities (320) 252-0278 or www.suregripdolly.com
Rox Height Adjustable Handlebar Risers
The Rox patent-pending Adjustable Handlebar Risers feature independent left and right risers that adapt to any T-stem width, making them very universal and usable on different makes and models. The adaptability takes the guesswork out of deciding how high you want your handlebars while providing you the option of fitting one sled to multiple riders.
The handlebar height can be adjusted for different conditions and riding techniques; lower for sit-down trail riding and river racing, higher for stand-up ditch banging and backcountry boondocking. The handlebars can be lowered for easier fitment of sled cover when trailering as well. There are two adjustable heights to chose from, 4-6 inches and 6-8.25 inches.
Rox Elite Series risers feature a location locking adapter that allow you to clamp standard 7/8- or 1 1/8-inch taper bars. The riser features a premium anodized finish.
You should note that an extended throttle cable and brake line may be required to accommodate taller risers. Always check that you have adequate length before installing risers and operating vehicle.
Contact Rox (218) 326-1794 or www.roxspeedfx.com.
Slydog 8 Ski

The Slydog 8 Ski offers the same reverse angle keel design as Slydog's 7-inch ski, offering very responsive, yet light steering. A new intake scoop improves snow induction while the 8-inch wide platform offers superior flotation. Slydog incorporates a taller keel design for improved handling and sidehilling.
Multi-color skis retail for $450 while solid colors are $425. Each ski package includes two skis, loops, mounting hardware and 4-inch 60-degree carbides.
Contact Slydog (866) Slydogs or www.slydogskis.com.
Flying V Sled Lift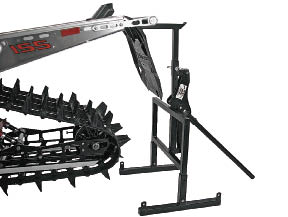 This rugged sled lift is fabricated from .090 thick steel square tube and has a durable black powdercoated finish for years of good-looking, reliable service.
This jack is a necessity as it aids in maintenance of clutches, track tension and alignment as well as preventing suspension sag during off season storage. Flying V Products is a family-owned and operated company and its products are manufactured in the USA.
Contact Flying V Products (208) 699-9403 or www.flyingvproducts.com
All New Mountain Horse Snowbike Conversion Kit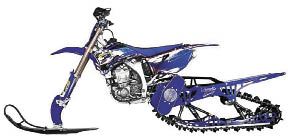 Timbersled Products has released the Mountain Horse Snowbike Conversion Kit. It is the first dirt bike conversion kit that is designed for the mountains and deep snow conditions. It was built to resemble the general layout of a snowmobile. It works extremely well in deep snow conditions and is very forgiving on all types of terrain.
The system does not use a traditional mono shock design back suspension that a dirt bike has. The kit uses Timbersled's unique Mtn. Tamer rear suspension system and a 121x12.25x1.75-inch Camoplast Challenger track that forms a 20-degree approach angle to the snow in the front.
The backbone of the assembly is a uniquely designed tubular sub-frame that is extremely strong and lightweight.
The tunnel is a three-piece assembly that bolts to the sub-frame; it mounts the back suspension and drive system.
In the drive system a chain runs from the motor to a secondary jackshaft and the jackshaft transfers to outside of the tunnel.
The system is simple to install. It takes about 1.5 hours to switch the bike back and forth from dirt to snow or vice-versa. Kits are available for most model bikes that are 250cc and larger including: Yamaha, Honda, Suzuki, Kawasaki, KTM, Husaburg, Husqvarna. The retail price is $5,000.
Contact Timbersled (208) 255-5644 or www.timbersled.com.
Split Rail Dual Axis Snowmobile Skis
A snowmobile ski's ability to constantly stay in contact with the trail by conforming to changes in terrain ultimately increases the control and performance of the snowmobile. Split Rail Skis excel beyond current day ski designs due to its patented center-less ski design and "Dual Axis Technology."
1st Axis – Split Rail Ski has two low profile keels that permit the two rails of the ski to flex from the front of the ski to the rear of the ski. Flexing of the ski eliminates bridging of any divots or potholes in the trail and allows the ski to conform to the terrain. The two carbides on the ski together with the four sharp sidewall edges remain in contact and carve the snow.
2nd Axis – Split Rail Ski has two rails that flex independently of each other and pivot on the axis side to side. When the ski enters a divot or pothole in the trail, both rails at the rear of the ski vertically self-adjust to conform to the contour of the terrain and carve the snow.
Unlike solid center skis which begin to lose contact with the surface as snow pressure builds, Split Rails center-less design regulates optimum snow pressure to its four sharp sidewall edges.
Contact Split Rail Skis (888) 771-9872 or www.splitrailski.com.
Footwell Vents
ModRods' new Polaris IQ/Dragon footwell vents help vent your sled and save belts while increasing horsepower and improving the looks of the sled.
ModRod carries a full line of vents for your Polaris
Contact ModRods (509) 370-1457 or XXXModRods.com.
Fastrax New Pro Chassis Product Line
Fastrax Motorsports has introduced an all-new line of Pro chassis products for 2011. Here is a sample of what the company offers:
Extended Pro chaincase kits/drop and roll kit for best approach and snowmobility. Fastrax has mastered the IQ chassis and is now dominating the Pro chassis.
HM Turbo liquid intercooled turbo kits, offering the most consistent and reliable power day in and day out.
FTX 4130 chromoly front bumpers offer the best fit and strength.
FTX carbon fiber hoods and carbon fiber vent kits. For maximum flow and lightweight strength.
FTX carbon fiber tunnel sides/running board kits are strong and rigid. No more board flex with these. And snow won't stick because there is no exposed aluminum.
Contact Fastrax Motorsports (253) 848-0908 or www.ftxmotorsports.com.
Alpine Assassins DVD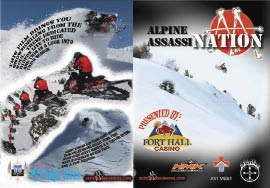 This movie brings you snowmobiling from the soul. These dedicated riders live to ride and this is a look into their season. Alpine Assassins is a growing snowmobile movement dedicated and focused on the grass roots of snowmobiling for snowmobilers.
Their attitude is "We don't care how big you go as long as you go."
Contact Alpine Assassins www.alpineassassins.com.