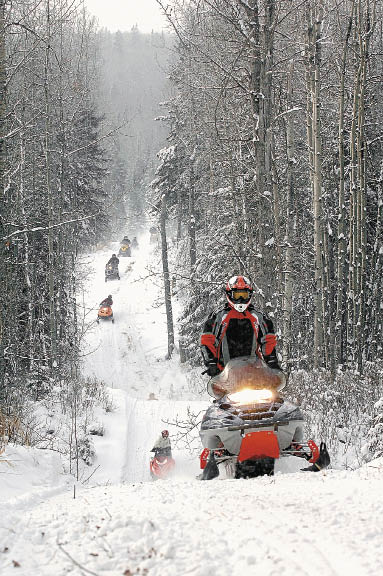 The reopening of the Golden Triangle in fall 2010 will again establish the Whitecourt, Swan Hills and Fox Creek areas as the premier snowmobile destination in Alberta.
It truly is the place for a "golden" sled experience. The roughly 350 km trail system (220 miles) loops through the rugged boreal forests of central Alberta, linking the communities of Whitecourt, Fox Creek and Swan Hills.
These trails are accessible seven days a week and have multiple access points. The well-marked, open trail passes through some of Alberta's finest scenery. The variety of terrain serves up flat stretches for the speedsters interspersed with enough hills to add some thrills. This trail can provide a challenge for the most experienced rider or a wonderful experience for the family.
The local sledding clubs, Whitecourt Trailblazers, Northland SnoGoers and the Swan Hills Snow Goers, with the help of Alberta Sustainable Resources and the municipalities of Whitecourt, Woodlands County, Fox Creek and Swan Hills, have partnered to reopen the Golden Triangle and ensure the groomed and well-marked trails are maintained.
Each of the clubs will be hosting snowmobile rallies as well to expand on the fun and excitement.
To start the adrenaline-charged month of February, the Fox Creek Northland SnoGoers will be hosting the Alberta Snowmobile Association Jamboree on Feb. 11-13.
The Whitecourt Trailblazers' two-day event will be the Family Day weekend, Feb.19-20.
The Swan Hills Snow Goers will host its event on Feb. 26.
Each of the clubs have maps of their trails as well as the Golden Triangle.
For more information check out: www.whitecourttrailbalzers.ca, www.townofswanhills.com and www.foxcreek.ca.