Now that we've published our exclusive Top 15 Trails in the West, where we ask hundreds of readers to tell us where they like to ride, we went a little deeper and asked a couple dozen sledders to be even more specific about where they like to ride.
You might know some of those we've queried, some you won't but they all have one thing in common: they love to snowmobile.
Admittedly, the areas listed might not be these riders' absolute favorites. We couldn't pry their private little play areas out of them, but they did share where they like to ride.
ANGELYN DYER

Rexburg, ID, rider for Team Thunderstruck (Thunderstruck movies), currently in graduate school to become a speech and language therapist
Favorite Riding Area: While it is true that I like to ride just about anywhere as long as it is on snow, a few of my favorite riding areas are close to home. I love the chutes at Mt. Jefferson, and the technical riding at Indian Creek, WY, or Bedford, WY (all just a couple hours from home), but I would have to admit that my all-time favorite area is where I grew up riding. The Big Hole Mountains area, just outside of Driggs, ID, was where my dad put me on my first sled (at age 6) and told me to "keep up or you won't be able to come anymore." I spent many years chasing my brother Geoff "Phatty" (from Boondockers Films) up and down the terrain and as teenagers we often loaded up and went there by ourselves. We taught Ryan Nelson (also of Boondockers) how to ride in that area after he bought his first sled in 2003.
Why There? I like the area because it provides fun for all. There are groomed trails to race down, tight corners through the trees, technical climbs, open meadows to boondock in, cornices, natural jumps and spectacular views from the top of some of the peaks. It is not the most majestic of areas but it is my playground. I know many hidden places to play and the snow is usually endlessly deep and fluffy. I can still manage to get myself into places I shouldn't be and can find a climb or two that challenges me every time. Throughout the years it has become more popular, but when we first started there in the late 80s we were often the only people around for miles and miles. It says freedom and always guarantees a good ride.
How Long Have You Been Riding? Twenty-three years, which makes me feel really old.
Your Current Ride: My sled is the pink M8 you can see ripping around with Thunderstruck or on a Monday in the eastern Idaho/western Wyoming area. It is the 2007 model, which means its time for me to upgrade. It has a clutch kit, lightweight rear bumper and some cosmetic upgrades (it used to be a green machine) but still has the stock engine. Sometimes when I ride with the turbos of Thunderstruck I feel as though I am on a little kitty cat, wishing I had a real machine that would make it where the boys go. Ultimately, however, I have loved this sled.
BOB BLOOM

Anchorage, AK
Favorite Riding Areas: My favorite is a secret area. My second favorite area is Petersville as it gets great snow. It has it all from just right amount of woods, open meadows and lakes to the steep and deep. I like the Bunco Lake and Alder Mountain areas the best because on clear days you get great view of Mount McKinley. This area is getting more popular so one must get there early or parking is an issue.
How Long Have You Been Riding? I have been at this game for a little while. I guess my first ride was in 1968 on a Wards Snow Traveler (rebadged a Polaris Mustang). It had a monster 8-horsepower Kohler and a killer 25 mph top end. But I have worked my way up to a 2011 800 Pro-RMK. As soon as I get it, I will be adding a gas can rack and a little storage box. My last sled was a 2009 700 RMK.
BRETT JENSEN

Preston, ID
Favorite Riding Areas: I have been lucky enough to ride in some pretty amazing places and I always smile because "everyone has the best riding spot." For sure they do because they always take you to their "honey hole." Through all of the fun spots I have two favorites, Pinedale, WY, and McCall, ID. Ok, you're going to force me to pick one aren't you? McCall, ID is it.
Why There? I have been there on the deepest snow day I have ever experienced in my LIFE. It was amazing. The country is just plain big. It's pretty easy to get away from crowds to enjoy whatever type riding is your favorite, tight trees, full days of sidehills, big bowls with long pulls, beautiful groomed trails, it has it all.
How Long Have You Been Riding? 38 years
Your Current Ride:2010 Polaris 800s last season, this season 2011 Polaris 800s.
BRIAN SCOTT

NASCAR Nationwide Series Driver
Favorite Riding Areas: Box Lake, Blackwell Lake, Boulder Mountain, Council Mountain, Lick Creek area, Warren area, Burgdorf area, Granite Mountain, also Fairfield area, Stanley and Smiley Creek (all these places are in Idaho).
Why There? I really like this whole area because of the terrain. We do a lot of boondocking and hillclimbing and these areas are really fitting for that.
How Long Have You Been Riding? I have been riding since I was 6 or 7 years old, so about 15 or 16 years.
Your Current Ride: 2010 Polaris 800 RMK with Boondocker turbo, 162-inch Camoplast Challenger track, Holz lightweight suspension and front end, all set up by Carls Cycles, Boise, ID.
CHRIS RUSKE

Ski-Doo Project Leader, R&D, High Altitude Test Center, Grand Lake, CO
Favorite Riding Areas: There are many favorite spots, especially the one I am riding at that moment. But one of my all-time favorites would be Revelstoke, BC. There is such a variety of terrain there but the best part is how open it is. And you can always find powder since people don't use it all up.
However, "favorite" spots are too numerous and I am keeping some of my favorites to myself so I can still go there without people finding us when we test.
Why There? People used to stay close to the trail and not use all the terrain, so it was always great powder. That may have changed since I haven't been back for a few years, but I loved the "extra horsepower" of lower elevation, too. The scenery was great. There's not that much tree running, which I like a lot, but the rest was great.
How Long Have You Been Riding? Do I really have to answer this one? Forty-six years.
Your Current Ride: Here is another "Do I have to?" I will be riding anything from a 2012 to a 2014 Ski-Doo Summit. The rest of the question will require you to drool.
CHRIS FIORE

Granada Hills, CA, actor, precision driver, race car driver and stunt man in Hollywood, CA
Favorite Riding Areas: I have two favorite areas to ride. Sonora Pass (Hwy. 108 from Hwy 395) in California is my favorite spot to ride in the steep and deep with other advanced riders and turbos. The area goes from 8500 to 12,000 feet and has incredible snowfall numbers, with much of the area above the treeline. It is the most extreme place in California. There are no services there and spotty cell phone service.
My other place, as everyone knows, is Mammoth Lakes, CA. It has huge amounts of snow and warm daytime temps. You can ride to June Lakes for on-trail fuel and food, as well as access a 5-star resort, Mammoth Mountain Ski Area, with its classy restaurant that has filet mignon and salmon for the best night ride on your anniversary. If you stay at the Inn, you can ride right from your door. It is a great place to introduce new riders to the sport and has deep volcanic craters and sharp peaks to 11,700 feet. You unload across from McDonalds in town at 7,800 feet and you never have to ride through mud and rocks to get to the good stuff. This is a place where the trails are groomed perfectly, maybe because 600 feet from the trailhead the open riding starts.
How Long Have You Been Riding? I have been riding for 35 years and have pictures of me on the back of a Ski-Doo 40 years ago while living in Utah.
Your Current Ride: I ride a 2011 VOHK Arctic Cat M8 turbo, a 2009 M8 turbo, a 2009 M8 LE and a 2006 Bearcat WT Turbo. I have a collection of 22 other sleds including a 1965 SnoTraveler, six Scorpions and a Ski-Doo 775.
CODY BORCHERS

Calgary, Alberta, Canada, owner/operator of a landscaping company, full-time backcountry freestyle rider
Favorite Riding Area: Brandywine area near Whistler, BC.
Why There? It has so much terrain to access and endless features to play on. Brandywine has so many areas that you can branch off of. It would take years to find all the honey holes. The terrain is huge and you can ride endless trees to huge icecaps that take you to the end of the world it seems. The scenery has got to be the most beautiful thing you could set your eyes on. It goes for hundreds and hundreds of miles.
How Long Have You Been Riding? I started about 20 years ago.
Your Current Ride: 2008 Ski-Doo 600RS with RSI handlebars and riser, SCS vinyl wrap, C&A Pro Skis, Enzo suspension.
DAVID DREW

Seattle, WA, "OCD" (Out of Control Dave as named by the Boondocker crew), commercial airline pilot
Favorite Riding Areas: Anywhere Bret Rasmussen and the Boondocker boys are riding together and I get to tag along. In my home area I enjoy riding Mount Baker (WA) with the boys and Mount St. Helens (WA) with the family. Outside my home area it's Cooke City, MT.
Why There? Mount Baker has steep terrain and great tree riding and usually gets epic snowfall. Mount St. Helens is a great place to take the family and still get those great hillclimbs in, without scaring them to get there. Cooke City for the steep and deep and famous Montana snow, need I say more?
How Long Have You Been Riding? 38 years
Your Current Ride: 2010 Arctic Cat M1000 Sno Pro 162 with a Boondocker pump gas turbo with EBC (electronic boost controller), outfitted with all the great accessories (speedo gauge cage, bar riser, gas rack, belt adjuster) available from After Market Products (AMP). 2010 Arctic Cat stock M8 162 with all the AMP add ons. Will be adding a couple of 2011 Arctic Cat M8 Sno Pros to the lineup. One will be outfitted with a Boondocker pump gas turbo.
DAVE SHARP, SR.

Moxee, WA, owner of Sharp's Muffler, professional hillclimb racer (Sharp Bros. Racing, Dave, David Jr., and Brad)
Favorite Riding Areas: Ahtanum (Darland Mountain),White Pass and Chinook Pass, all west of Yakima, WA.
Why There? There's a lot of scenery, steep terrain, trees and it gets a lot of fresh snow. These areas are all within 50 miles of home.
How Long Have You Been Riding? I've been riding since I could walk.
Your Current Ride: 2011 Ski-Doo Freeride E-Tec 800R (stock).
DENNIS DURMAS

Grand Junction, CO, retired snocross and hillclimb racer
Favorite Riding Area: My favorite riding spot is the mountains in western Colorado. We normally get a great snowfall and can ride from November until June. The Grand Mesa has some awesome riding, a little bit of everything from groomed trails to the steep and deep. I like the south side of the mountain in the Surface Creek and Leroux Creek areas.
Why There? I like to ride off-trail boondocking and just finding the fresh snow where no one has been and marking it up. My main reason for liking this area is because I can unload 45 minutes from the house and not see anyone all day if I don't want to. It helps that I grew up in the area and hopefully I won't get lost. There is lots of tree riding in and out of meadows so you need to know where you're going.
How Long Have You Been Riding? I have been on a snowmobile since I was 1 year old riding with my father. I will be 45 in March and hope to ride a snowmobile till I die many years from now. I am looking forward to the upcoming winter because I retired from racing after 22 years of not missing a season and hope to put many backcountry miles on my new 2011 Polaris Pro-RMK that I hope to do some minor mods on like an SLP single pipe and some vent kits and just some good old high altitude clutching. And the other stuff that I can't tell you so my buddies won't find out.
DUSTIN SWEETEN

Owner, PowerHouse Motor Sports, Pleasant Grove, UT; retired snowmobile racer
Favorite Riding Area: My favorite riding location and where I ride the most is the Lake Creek area east of Heber City, UT. I like this because 1) Easy access - We can ride right from our cabin in Timber Lakes and be done with the trail in 10 minutes. We can also run back to the cabin and grab some lunch and be back riding quickly. You can also access the Mirror Lake or Strawberry areas for additional riding. 2) Variety of terrain - We normally ride as a family and we have riders aged 8 years and up. So my kids can be riding in the meadows while I can find areas to climb as we go. If the weather turns bad I can get in the trees and ride. Most days I can find untracked areas even on busy days. 3) Riding season - Normally we can ride the area from late November until the end of May.
JARRID JUSE

St. Albert, Alberta, Canada, owner Absolute Power & Performance
Favorite Riding Areas: Revelstoke, BC, Boulder Mountain, Frisby Mountain Why There? Lots of snow. Excellent tree riding. Incredible chutes and hillclimbs. Lots of snow. Always somewhere to ride even on the cloudy days.
How Long Have You Been Riding? Since I was old enough to hang on to Dad. About 35 years.
Your Current Ride: 2011 Polaris Pro LE , carbon fiber suspension rails, Fox Float shocks, titanium bolts, Boss seat, Simmons skis, Aerocharger Turbo, custom clutching, R&M vent panels, custom anodizing, APP Tunnel Stiffeners, 163x2.5x15 Camoplast extreme track, APP Snow Flap, Avid drivers. 2010 custom built Rev chassis, carbon fiber A-arms and suspension rails, Fox Float Shocks, APP 860 Big Bore, Dynoport pipe, APP Stinger, Simmons skis, Boss seat, lightweight panels, R&M Vent panels, RSI riser, V-Force reeds, Boyesen Power wings, custom clutching, APP Modified Tunnel, APP Tunnel Stiffeners, APP Gas Rack, APP Snow Flap.
JO MCKNIGHT

Co-owner/general manager, Action Motor Sports, Idaho Falls, ID
Favorite Riding Areas: No doubt anyone who knows me knows I love Bone, ID, more specifically, northeastern Bone.
Why There? I do love the area, as I have grown up riding in all the areas east of Idaho Falls. On a normal snow year, I can leave from the house, make an 80-mile loop all in fresh snow and most of the time never see a track. When we depart from the main parking lot, of which there are two, we can really cover some untracked snow. Having a fuel tank at a strategic location for fuel also helps.
There are all types of riding in that area and I really like the diversity. There is plenty of deep snow, climbing, creek-jumping and lots of scenic places to eat lunch. Us old guys gotta have lots of fuel for our old bodies.
How Long Have You Been Riding? I've been riding since I was 12—40 years now. That includes riding SnoJets, Ski Daddlers, TX 340, TNT and too many more to name.
Your Current Ride: My current ride just arrived this Monday (Sept. 20, 2010). A 2011 800 Pro-RMK. Last season saw me on mostly my 600/660 RMK. A couple of consistent changes on all my sleds are SLP skis and pipes. SLP skis are the best in the business for sure. I'm so old that I was around with Jim Noble when he spent all those nights inventing the first trick skis in an old pizza oven. The guy was a genius in many ways for sure. Rather than too many more mods to my sleds, I try to focus on riding better. I like my rides to go the whole day without lifting the hood.
KIRK ZACK

Founder/test rider HMK USA, Hood River, OR
Favorite Riding Areas: We love to ride everywhere with our friends, from trail riding in Sweden and the Midwest to mountain riding all over, but we really like backcountry boondocking, deep powder, trees, etc. We are fortunate to ride all over with our athletes and every spot is a secret backcountry place we could not get to again if we tried. A favorite that sticks out is the ride we did in Togwotee (Wyoming) with Pink Ribbon Riders and in Alpine, WY with Dan Adams, Tony Jenkins and a great crew. We were also in the backcountry of Washington, Idaho, Utah, Colorado, Oregon and others.
Why There? The best part of the position is we get to see everyone's favorite secret spot and we get to ride with friends. The scenery is always unreal and the conditions always deliver.
I've thought about why I like Togwotee so much. There is terrain for everyone at every skill level from trail riding to boondocking to hillclimbing to tree riding. You name it. And there is SO much terrain. The scenery is unbelievable. I love that we can go as a family and my kids and wife have as much fun as I do—maybe more.
How Long Have You Been Riding? Since I was a kid in Wisconsin, 30 plus years. My first sled that I purchased on my own was a Suzuki Nomad.
Your Current Ride: Arctic Cat/HMK M8, 153 with a Boondocker Pump Gas Turbo, ZBroz 43-inch front end kit with ZBroz front and rear suspension, SLP Powder Pro Skis, FTI Hot Pot, Sportech Windshield and skid plate, AMP Billet goodies, Boss Seat, Torco Lubricants, Lotsa Powder Coating and sweet HMK Wilderness graphics.
MARK BOURBEAU

Walden, CO, full-time Colorado State Parks Resource Technician, part-time SnoWest SnowTest rider and freelance writer
Favorite Riding Area: The northern Colorado Rockies from Rabbit Ears Pass to the Wyoming border.
Why There? The first reason is this is my backyard so the travel time is 30 minutes to an hour max. The second reason is that on an average year the snowfall is well over 300 inches. Two winters ago we had 530 inches of the white stuff and there have been several years when we have had snow when other areas were without. The third reason is the terrain diversity with everything imaginable except for wide open high country riding (that's all Wilderness). The fourth reason is the scenery and vistas in these mountains. There are no rivers or streams that flow into Colorado. It's all downhill from up here and you can see forever.
How Long Have You Been Riding? This coming winter will be my 41st year of tearing up the white stuff.
Your Current Ride: My pony is an obsolete (still keeps up), yet pretty much stock 2001 Polaris RMK Snow Check Special. Upgrades include an Allsport bottom end kit, Xtreme Performance Stage 2 top end, Starting Line single pipe, 151-inch Series 4 track, complete Holz Performance suspension package, Boss lightweight seat; R&M Lightning lightweight hood, Cobra windshield, Powermadd adjustable handlebar risers, C&A Pro skis.
MATT ENTZ

Potato farmer, Monte Vista, CO; team rider for Boondockers movies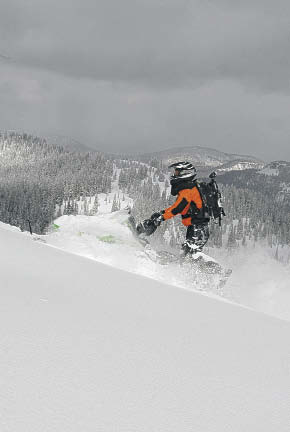 Favorite Riding Area: Wolf Creek Pass area, CO
Why There? The snow is super dry and deep. There is a lot of technical tree-filled terrain that provides constant challenges and every ride is truly an adventure. The view from the 12,000-foot ridges is literally breathtaking.
How Long Have You Been Riding? On sleds for 24 years. Riding my own sleds frequently for nine years.
Your Current Ride: 2010 Arctic Cat M8 HCR, BDX intake, Speedwerx tunnel dump muffler, Boondocker fuel controller, VOHK tuning, Timbersled Mtn. Tamer rear suspension on IceAge rails, Sledskin wrap, Bill Harmon built Highliftjack.
ROB POWERS

Snowmobile Product Manager, Yamaha Motor Corp., Wisconsin
Favorite Riding Areas: My 13-year career with Yamaha has awarded me great opportunities to ride all over the world. I've ridden snowmobiles from Japan to Idaho and many areas in between. Oregon, Washington, British Columbia and Alaska are on my "bucket list."
My favorite riding area is really two areas: Alpine, WY, and Snowy Range, WY. Alpine has technical boondocking to gnarly hillclimbs. My preference is the technical tree riding, getting into areas that seem to have no way out.
My second location is the Snowy Range in southeast Wyoming. This area gives you riding for all levels. It's a great way to ride with a big group of friends and everyone has a blast. It has big climbs, great tree riding and some wild creeks to get stuck in.
We had the SnoWest team in the Snowy Range when we first showed them the 2006 Apex. We had super deep snow—more than five feet in three days. It's one of my all-time favorite rides.
How Long Have You Been Riding? I've been riding sleds as long as I can remember so I guess that's about 35 years or so.
Your Current Ride: It's time to get ready for this year. Now I just have to decide if I should install Yamaha's distributed turbo or supercharger on my 2011 Nytro MTX. Life is full of tough choices.
LARRY WILSON

Salt Lake City. Associate coach for Highland Rugby Team (which the movie Forever Strong is based on), high school football coach
Favorite Riding Areas: Island Park, ID, and West Yellowstone, MT.
Why There? The variety of riding opportunities. It has every type of riding that I enjoy (trees, hills, alpine meadows and incredible scenery).
How Long Have You Been Riding? Sporadic riding during the 1980s and 90s but consistently since 2001.
Your Current Ride: 2006 Yamaha Apex, naturally aspirated with about a 75-pound weight loss. Most all add-ons except a forced air system.
RANDY ZACARUK

Avalanche instructor, Zac's Tracs, Alberta, Canada
Favorite Riding Area: Eagle's Pass, Sicamous, BC
Why There? It's the whole package. It's a vast riding area with wicked scenery, tree riding, lakes and hills of all sizes. Eagle's will challenge you no matter the snow conditions. Avalanche training is a must in this riding area.
How Long Have You Been Riding? I started on a 1981 John Deere 440 Sportsfire as a teenager.
Your Current Ride: 2008 Polaris 700 Dragon turbo 163-inch, soon to be a 2011 Polaris 800 Pro-RMK turbo 163-inch.
MIKE CASSIDY

Owner, Fabcraft, Florence, MT
Favorite Riding Areas: Williams Lake area on the Idaho side of Lolo Pass. Second favorite place is Goose Lake area in McCall, ID.
Why There? This area is a blast to ride if you like true backcountry riding. There are no groomed trails or signs leading into it so you only get true backcountry riders. It is a test of your tree riding abilities just to get into the area, but once you're in there is some of the best hillclimbing, boondocking and deep powder riding you will find in the Lower 48.
You follow the trail system out of Lochsa Lodge for about eight miles, then start boondocking through the trees for another eight miles where it starts to open up into higher alpine riding. When the snow gets deep back there it is measured in feet, not inches.
This is one of the areas in central Idaho and western Montana that we are fighting to keep open to snowmobilers. This area is close to home for me and has terrain that will challenge any sled, so it is a great area for us to do R&D work.
How Long Have You Been Riding? I guess if you want to go back to the beginning I was about 6 years old. We tied our saucers behind an old Polaris 340 and tried to stay on them while we took turns ripping around the cow pasture at a break neck speed of 28 mph. I guess this is where I should say don't try this at home because once you pass 40 all those bone jarring frozen cow pies will start coming back to haunt your back each morning when you get up. Sleds have sure changed in the past 40 some years.
Your Current Ride: My latest sled is one using our (Fabcraft) custom chassis, the Nemesis PI, 162x2.5-inch track, Cutler 1150cc carbed twin motor (that's right, you did read carburetor), CMX belt drive. It is built for my type of riding—deep powder and trees. I'm not much of a point and shoot rider so I'm not big on the turbo sleds. I am on and off the throttle thousands of times a day so quick throttle response and quick backshifting is what my sled is set up for. A slow reacting sled is a stuck sled for me.
All my sleds are built to be extremely simple and easy to ride and fix in the backcountry. Where I like to ride you don't just pull a sled home if it breaks down, you fix it on the spot, so the fewer electronics and fancy gadgets I have to go bad the better I like it.
Let's face it, it isn't IF a sled will have problems it is WHEN and I have yet to see ANY brand that isn't having problems of some kind. Simplicity is king in my book, because I haven't found a mechanic who will make a service call with his computer 25 miles into the backcountry.
NATHAN ZOLLINGER

Sales and marketing, Zbroz Racing, Logan, UT, Factory Arctic Cat professional hillclimber
Favorite Riding Areas: Providence Canyon, UT
Why There? The reason I like to ride this canyon is because it's about five minutes from my shop. And I enjoy the terrain. It has some pretty big chutes, if your turbo or big bore is up to it. It will get your blood going. You have to be careful though as the chutes are avalanche prone, being north-facing. It also has some very technical tree riding if you look past the normal tracks you'll see.
When I am not building a fun hillclimb practice course, you "won't" find me in the trees. Well if you're lucky you will, but I ride there a lot and don't see many people in the draws and places I like to go. It's not that it is hard to find but people just don't seem to drop into every little canyon. It's not really high in elevation but gets good snowfall from the beginning of the season to the end. I have no idea how much; I usually just look out my office window and if the trees look like they have a good fresh coat I stop what I'm doing and go see how much. Providence Canyon is frequented by a lot of big name locals like the Williamsons, Thompsons, Simmons, Checketts and many more, so if you see someone do something that looks easy, it's probably done by a veteran backcountry guy with a better than average skill set.
Another highlight worth mentioning is Logan Peak. This peak has some nice radio towers so it's easy to find and it offers a cool view of the valley floor. It's also just above the Rodeo Grounds, which is the local race hill to see if your buddy's sled is really as fast as he says it is. Be careful on the north/east facing hill as it slides a lot and the smaller bowl just to the south took the lives of two good guys a few years back. Wear your beacon and use your head, not your ego.
How Long Have You Been Riding? I think this is my rookie year? When do you become a veteran?
Your Current Ride: 2010 Arctic Cat HCR with Exit shocks front to rear, ARS FX 43-inch chromolly A-arms, CPC lightweight canister, Frogskinz venting and lots of extra energy bars for digging out my buddies.
TODD TUPPER

Hailey, ID, former snocross racer, current Team Arctic professional hillclimb racer
Favorite Riding Areas: Fairfield/Soldier Mountain areas (Idaho).
Why There? There is a wide variety of riding, not a lot of people go there and it is right out my backyard.
How Long Have You Been Riding? 37 years.
Your Current Ride: 2009 Arctic Cat M8 HCR, CPC turbo, Revention lightweight rear suspension parts and lightweight front suspension components and Todd Tupper custom shock valving.
ROBBIE HOLMAN

Whitefish, MT, owner Avid Products; president, Montana Snowmobile Association
Favorite Riding Area: My favorite area is behind Hungry Horse Dam (southeast of Columbia Falls, MT, and west of Hungry Horse Reservoir). The entry road is the s#!*&. No grooming allowed. That keeps some people out. That ridge gets more snow than our ski hill and our ski hill gets about 160-170 inches of snow a year. I have been riding there long enough that we can always find untracked snow and almost never run into anyone. I'm a powder hound. Our hills are like the ones around the cabin at Revy, only we have lots of trees. A 20-second full throttle pull is a long one for us. There is always something in the way. It is probably the most technical riding area that I have experienced.
One of the drawbacks to having all this snow is we run in a lot of flat light. There are hardly any sunny days until spring.
Why There? Deep snow, trees and varying terrain is what this area is about.
How Long Have You Been Riding? I have been riding for about 25 years.
Your Current Ride: Currently I'm running a Ski-Doo XP with an 880 and 174-inch long, three-inch lug paddle track. There are about 30 other sleds around here with this track. A 162x2.5 is considered a small track. It is very hard to maintain much momentum with the trees. If you try to regain momentum going uphill in soft snow the smaller tracks will dig a hole or you'll have to turn out.
TODD ROMANO

Park City, UT, president and owner of DragonFire Racing. Professional racer on SCORE, BITD and LORRS circuits, 2009 Baja 1000, Baja 250 and Baja 500 champion.
Favorite Riding Area: Snake Creek Canyon, Park City, UT.
Why There? The area gets more than 500 inches of powder a year and you can ride from December to May. It has some of the best tree sledding in the country. There's easy access in and out. You can ride to the top of all five ski resorts in the Wasatch: Park City, Deer Valley, Canyons, Alta, Snowbird, Solitude and Brighton.
How Long Have You Been Riding? Six years.
Your Current Ride: I have a Polaris Dragon 163 with a DragonFire Turbo making 240 hp, Fox Evol shocks.
TOM DINES

Owner, Tom's Snowmobile & Service, Sierra City, CA
Favorite Riding Area: I like the Lakes Basin area near Sierra City, CA, because there are close to 50 natural lakes that allow you a diverse riding area. In a day you can cover it all (meaning the full broad spectrum of riding styles). Lots of steep, technical stuff mixed with some old growth (big) fir tree riding to small drag races across the lakes, etc.
Why There? Really, because it has it all: hillclimbing (some even without trees), boondocking or tree riding, off-trail riding (lots of good logging roads and old skid trails) and the fact that it is only 15 minutes from home. There is something for the real experienced hillclimber as well as the young rider who is just learning the ropes. The lakes allow new riders to get familiar with the operation of the machine, while Mom or Dad can keep a watchful eye on their progress. In marginal snow years on the back side of some of the bald or no-tree mountains, the wind will blow the snow up and over, trapping it down in the trees, giving us some deeper snow coverage. The trees also shade or cover the snow from the sometimes-bright California sun. So when Mother Nature is skimping on snow delivery, at least the snow junkies can get their "riding fix." The scenery lends itself to those who are looking for that "stop and enjoy the scenery" experience as well.
How Long Have You Been Riding? 23 years, though some might think a couple by the way I ride.
Your Current Ride: 2008 Summit 800R 154 with stock motor, W Boyesen Reeds, different Rave system, HPS aftermuffler, customized Y pipe, slightly altered primary air box. For the chassis and suspension I am running a 2.5-inch non-ported Camoplast track, with our Evolution Air kit in the rear (that is constantly being changed for R&D purposes), Float R Evol ski shocks (I think they are the best mountain shock on the market), clutching that is rarely left alone, including testing our 3-D lever arms and any other "top secret" parts I can sneak by Richard and Andy to help me try to stay ahead of them.