RSI Racing
(800) 308-6149 or
www.rsiracing.com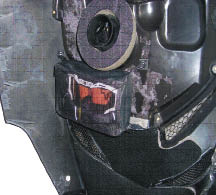 Need to thaw out those frozen gloves or goggles? RSI's new Vented Storage Bag will not only thaw out those frozen clothing items but keep them warm until you put them on.
This bag mounts under the hood so that the heat from the engine thaws and heats your frozen clothing items. The bag is made with heavy-duty nylon and mesh materials.
The bag retails for $14.95.