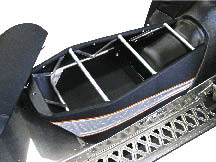 R&M's Axess Seat has been redesigned for Arctic Cat's M-Series chassis. This seat weighs 7.5 pounds, making it three pounds lighter than OEM, and it offers greater height, fit and finish. It comes in new colors and graphic designs, with a new style hold-down system for the top cushion and is made in the USA.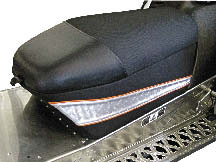 Axess Seats are lightweight aluminum tube frames, covered with long-lasting water repellent fabric, and top cushions are reinforced fiber bases with firm (not stiff) comfortable foam padding and covered with sharkskin neoprene for great top and side grip. The top cushion is also removable for complete access to a storage compartment that extends the entire length of the seat. This storage compartment can be used for shovels or just about anything else.
Seats fit 2005-2011 M-Series, 2009-2011 HCRs, 2006- 2011 Crossfires and 2009-2011 CFRs. Retail price is $549.95, but may change without notice.
Contact R&M Lightning Products (801) 467-2442 or www.rmproducts.info.