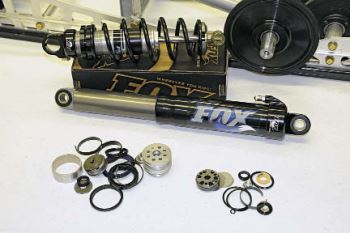 Ride like Chris Burandt? Probably not, but you can get the same custom suspension parts that were developed for Burandt.
Fox Shox worked with Burandt at his shop in Colorado to develop a cure for the stiff ride of the Float rear suspension found on 2009-2010 Arctic Cat M-Series sleds. It's no secret that the Float skid was our least favorite rear suspension in the 800 class, due mainly to the harsh ride of the shock calibration.
Hard Parts
Once Fox Shox had developed the upgrade kit, we sent in the Float rear track shock and Zero Pro front track shock off our 2010 Arctic Cat HCR. The service offers quick turnaround and you get your original shocks back, in a Fox partitioned box, with a totally different calibration package.
The $300 rebuild kit includes max air volume bearing, high-flow Evol-style race damping pistons and improved valving specs.
When our improved shocks returned a few days later, we reinstalled them in the Float skid and put the sled back into our SnoWest fleet rotation.
Ride Quality
We don't give glowing reviews to that many products—mainly because the hype is usually louder than the performance. But we are flat-out impressed with the Burandt Backcountry upgrade. And it wasn't just us. On one ride, one of the guys we were with was on a stock HCR. We let him ride ours for a while and he literally did not want to trade back.
The Fox upgrade allows the rear suspension to soak every bump, from sharp stutters to shelled-out moguls and do it without sacking out (failing to rebound between bumps) and without wanting to kick you over the bars. We could rail over rough trails where before we would have to skirt the edges. It is a completely different ride quality compared to the stock calibration.
Yea, it's a bite that you have to shell out another 300 bucks to get the premium ride, but it is worth every dollar you spend.
Labor
Pulling your skid is relatively easy and can be done in your garage. First, loosen the axle bolts and back the track tension adjuster bolts out. Support the rear bumper and remove the four bolts holding the skid frame to the tunnel. Lay the sled onto its side and remove the skid frame. To remove the shocks, you'll need to remove the four bolts holding them in, along with a few others so that you can spread the rails apart to remove the front track shock.
For more information on the Burandt Backcountry Rebuild Kit, contact Fox Shox (800) FOX-SHOX or www.foxracingshox.com.