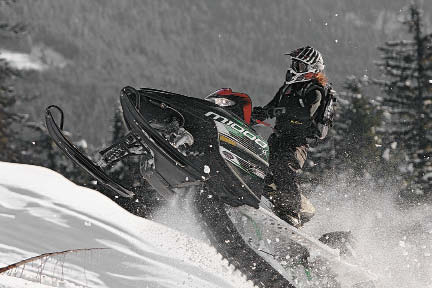 Following in the footsteps of some of the best riders in the country, Amber Holt, owner and master instructor, is offering Backcountry Basics Snowmobiling Clinics.
"Six years ago while residing in Willow, AK, my husband, Budd, gave me my first snowmobile, a Polaris Pro X 121 with a 600 motor," Holt said. "His simple intention to introduce me to the sport started out as a way we could spend more quality time together. Today this shared passion between us is not only the result of his patient mentoring, but also opened up a drive deep inside me that is indefinable. This drive continues to inspire me to try more challenging riding and technical terrain. I love everything about snowmobiling, including sharing its rewarding joys with others."
She said she's been dedicated to helping riders meet their riding goals by providing instruction in fundamental skills from beginner to advanced levels with her "Pivotal Pyramid" concept. The clinic focuses on helping clients become safe, skilled backcountry riders. Holt's signature concepts, teaching style and curriculum ensure the learning experience is straightforward and fun.
The Backcountry Basics base is located at Bear Creek Lodge in McCall, ID (www.bearcreeklodgemccall.com). This beautiful location provides affordable, all-inclusive instructional packages and caters to private parties, couples, kids, organizations and individuals with special needs. There are 2- or 3-day instructional clinics available with certified instructors, depending on skill level and group size. The learning environment is not intimidating, and the curriculum was designed to help riders gain the most without the distractions of fear or frustration.
The Level 1, 2, 3 Academy is a new 6-day clinic series segmented into two day portions for all three levels. This is a great fit for parties with mixed skill levels.
Holt will be featured in BAM Film Productions' "Sledding the West" (www.sleddingthewest.com) TV show, giving "great rider tips" throughout the season. The filming experience evolved into BAM Productions and Backcountry Basics teaming up to produce a complete A to Z Instructional DVD, The Ultimate Guide to Learning to Ride with Amber Holt.
Holt will be available to travel year-round to local snowmobiling clubs and organizational events for instructional seminars. For those attending western snowmobile snow shows, Holt will be sharing Backcountry Basics Pivotal Pyramid concepts during seminars.
Contact Amber Holt at Backcountry Basics (509) 733-6464 or www.backcountrybasics.com.