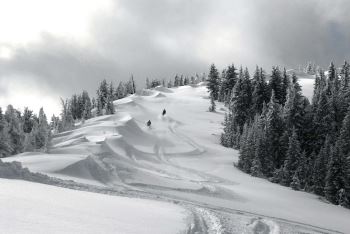 While several areas in the West were suffering through a light to medium blue (which, naturally enough, gave us snowmobilers the blues), February last winter we found a spot that was dark purple, even red at the highest elevations.
Yes, dark purple (and red) is good when it comes to snow depth—at least as it's measured on www.nohrsc.nws.gov. If you go to the "Interactive Map" button on the left side of the page and then click on the pull down menu on the left, you can choose a date from last winter and see what we're talking about.
Choose the date Feb. 8, 2010 and zero in on southwest Colorado and you'll see exactly what we're referring to.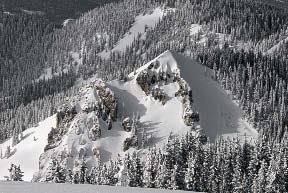 You know sometimes, how you just hit an area at the right time and the snowmobiling is absolutely superb? That was South Fork, CO, for us last February.
You know it's going to be a good day of riding when you're busting powder on the groomed trail. And we had two days of busting powder, sometimes so deep stand-up riding was a must so we didn't drown in the light, dry champagne powder, and so we could see where we were going.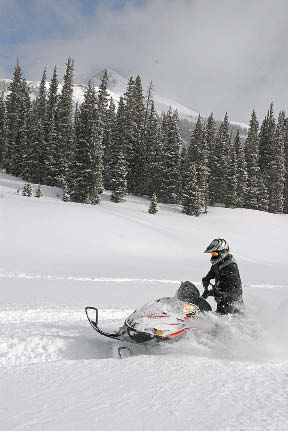 If that doesn't pique your interest enough, then go to the government's snotel website (www.wcc.nrcs.usda.gov/snow/) and navigate your way to Colorado's Wolf Creek Summit snotel site and just take a look at the snow depth for the past snow season. You'll see that the first measurable snow hit the area Oct. 8 and finally melted June 8—that's eight months of snow on the ground. During our two days of riding the area south of South Fork, there was an average of 83 inches—nearly seven feet—of snow on the ground. Less than two weeks later that total was 102 inches.
You might be thinking, "Wow, if they would have just waited a few days to go riding, the snow would have been even better." Perhaps, but you won't hear any complaints from us.
The snow was deep, mostly untracked and had a great base for awesome off-trail riding, which we did a lot of, especially on our second day when we barely remember hitting anything groomed.
Red Hot Snow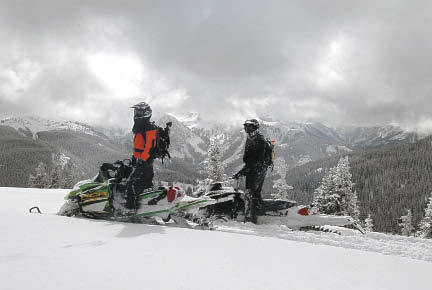 Snow like that doesn't go unnoticed in a season when it wasn't so (red) hot in other places. That meant more sledders than normal found their way to southwest Colorado, especially South Fork, because of its easy access to the trails and great services. Fortunately there were enough storms that snowmobile tracks were quickly and easily covered up.
The riding around South Fork isn't so different than what you'll find in many of Colorado's other snowmobiling locales. There are numerous—probably countless—parks (wide open meadows) to track up, outstanding boondocking through stands of pines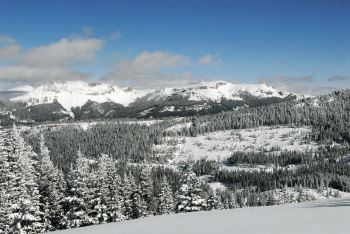 and quakies that make for some fun but technical riding, an impressive variety of terrain (there's very little flat country around South Fork) and miles and miles of groomed trails. The South Fork Powder Busters club is responsible for grooming 165 miles of trails, while the Silverthread Outdoor Recreation Club grooms another 75 miles of trails, mostly north of South Fork. The trails the Silverthread club grooms tie into the Creede trail system. Powder Busters trails are all south of South Fork.
There are a couple of differences, though, that set South Fork apart from many other riding areas in the state. First, there are ample hillclimbing opportunities in this section of the San Juan Mountains.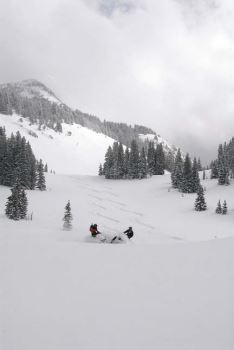 That comes courtesy of the fact that you begin riding at around 8,500 feet and can get to elevations of at least 12,000 feet. If you decide to ride from town, which you can on a groomed trail, you're starting at 8,180 feet. And there were times during our two days of riding that we were sitting at elevations of 12,000 feet plus, including one spot where we were at 12,290 feet. The hillclimbing includes some wide-open faces as well as tree-littered hillsides.
Second, while the locals were talking about how many extra sledders they had seen last winter, there still aren't many sledding crowds in South Fork. The town and its riding areas are just far enough away that if the snow is decent closer to the population centers of the state (read: Denver), the crowds stay closer to home. In fact, you're just as likely to see snowmobilers from Oklahoma, Texas and New Mexico as you are from other spots in Colorado.
Heading Out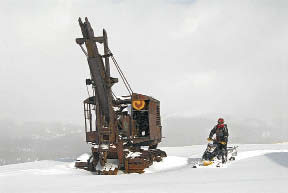 We rode out of the Park Creek parking area, which is about six miles south of town off U.S. Highway 160, on our first day in South Fork, heading out on the Park Creek Trail as it passes through a canyon. The trail heads to the old mining town of Summitville, about a 17-mile trek on a groomed trail and then another two or three miles on an ungroomed backcountry road. We eventually made it to Summitville but in a very roundabout way. We played in a couple of the parks—there is Corral, Coal Mine, Trail, Kelly and Fivemile, just to name a few—scattered out alongside the trail before peeling off into the trees toward the Continental Divide.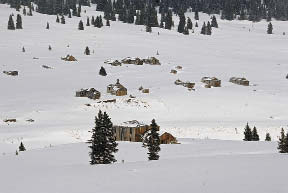 Generally speaking, there was about 10-12 inches of new snow we were floating through and definitely more the higher we climbed. When we were close to Elwood Pass (11,631 feet) we were also close to the South San Juan Wilderness Area, which, of course, is off limits to motorized recreation, so be sure you know your bearings when you're down in this area. Our lunch stop for the day was at the Elwood Guard Station, which you can rent for overnight stays. The cabin sits in a big open area where you can play before heading back to the surrounding taller mountains.
After lunch we sledded through a narrow drainage along the edge of Sheepshead Mountain, across Schinzel Flats, up along South Mountain Creek and then towards Summitville.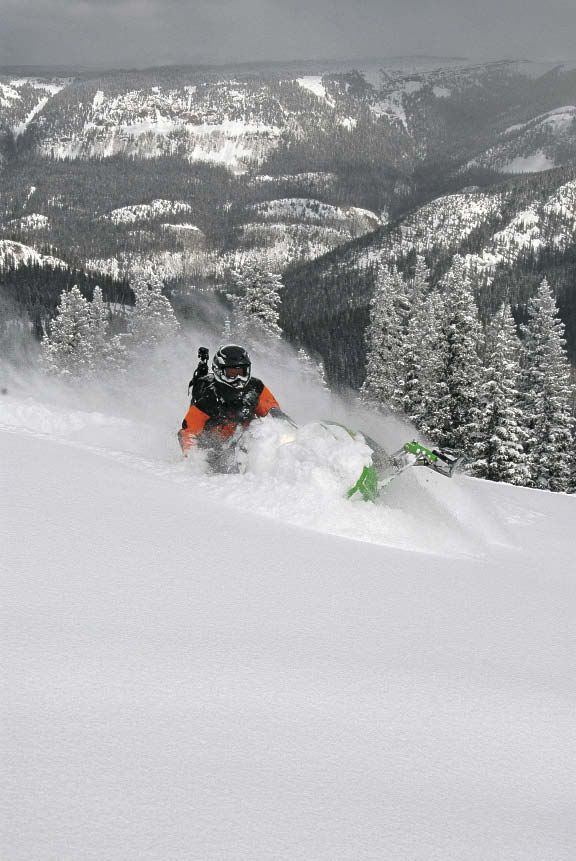 Summitville, which sits at 11,500 feet, actually had more than one mining life. Gold and silver mining began around 1870 but tapered off in the mid 1880s. The town somewhat came back to life in the mid 1930s when some of the mines were reopened, this time producing copper. Then, from 1986-1991, a mining company opened a pit heap leach gold mining operation before abandoning the site in 1992. The area now has the dubious distinction of being a Superfund site. You can ride around and look at some of the original buildings still standing in Summitville, but you need to watch out for equipment and respect government property. South Mountain (12,473) towers over the old mining operation as well as over Summitville.
During the day's ride we were able to experience all the variety of riding near South Fork has to offer—and we still had another day to ride.
Secret Powder Stash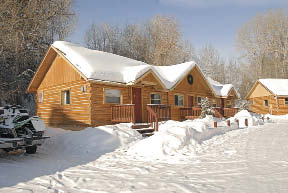 Day 2 was mostly off-trail riding. After parking at the Tucker Ponds trailhead, we headed south along the Pass Creek Trail toward Campo Molino, a very popular play area past Tucker Ponds.
We headed off-trail before we got to Campo Molino and headed into our guides'—Matt Entz (whom you might recognize as a rider for Boondockers) and his friend Marshall Mathias—secret stash of powder.
About all we're allowed to reveal about our second day of riding was that we rode near, on and in the shadow of the Continental Divide. One more morsel—we did cross Bonito Pass at one point.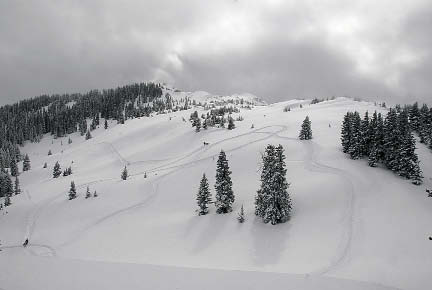 The snow was deeper in this area than where we rode on the first day in South Fork but then we stayed more in the trees except on a couple of occasions when we rode out on a couple of points to see the surrounding amazing scenery or on an open ridgeline. In places we were at 12,000 feet plus. It was a challenging day of riding as we traversed drainages, hillsides, mountains, parks and backcountry roads—all laden deep with powder.
Early in the day we were forced to stay at lower elevations because of low cloud cover and, you guessed it, snow showers. The clouds never really disappeared that day but they did lift enough that we had decent light and could see the surrounding mountains.
We didn't see another sledder on our first day of riding in South Fork and on day two, well, we didn't see any sign of human anything, including snowmobile tracks.
Aside from all the qualities snowmobilers look for in a riding area, perhaps South Fork's greatest asset is its location: just far enough away to limit the number of snowmobilers who are willing to travel that far to ride, but close enough that it's well worth the trip if you do.
Elevation 8,500-12,000 feet

Snowfall 350 inches
Miles of Groomed Trails 240
Full Service Town South Fork
Nearest Airport Alamosa (48 miles)
Getting Started South Fork Visitors Center 800-571-0881 or www.southfork.org
Getting There South Fork is located at the junction of U.S. Highway 160 and State Highway 149 in southern Colorado. Most of the snowmobile trailheads are off Highway 160 between South Fork and Wolf Creek Pass.
Getting Around The local Arctic Cat dealer (and only snowmobile dealer in South Fork), Twin Pine Motor Sports, rents snowmobiles. Contact Twin Pine at 719-873-9873.
Bedding Down We stayed at the Ute Bluff Lodge (800-473-0595 or www.uteblufflodge.com), located right on U.S. Highway 160 across the highway from the Rio Grande River. Ute Bluff offers log cabins as well as lodge rooms. The cabins can accommodate up to 10 people and come complete with kitchens and gas fireplaces. The lodge rooms accommodate up to four people. You can ride right from the lodge to the snowmobile trails. Our cabin was plenty spacious and very clean. The kitchen is fully stocked with whatever you might need. The lodge is just outside of town so it's very quiet and is a great place to stay. We highly recommend the Ute Bluff.
Eating Out There are several dining options in town. For a list of restaurants, contact the South Fork Visitors Center.