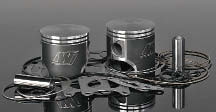 Wiseco offers a full line of 2- and 4-stroke snowmobile piston kits to power your engine this season.
The newest kit is for the 2007-08 Polaris RMK and RMK Dragon 700 and includes pistons and a complete top end gasket kit to rebuild your top end.
Each piston is built with a dedicated forging to give you a lightweight, superior-strength part. Semi-keystone chrome rings are designed with a wear-resistant face with pressure back design for long life and optimum ring seal. Each piston for the Polaris RMK and RMK Dragon are Electra-coated to eliminate ring and piston pin scuffing for added performance. ArmorGlide skirt coating creates reduced friction and quieter operation. The Wiseco Top End kit for Polaris RMK 700 retails for $371.54.
Contact Wiseco (800) 321-1364 or www.Wiseco.com.