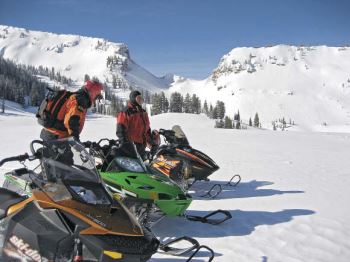 No roads, no power lines, no cable TV. At first glance, the Box Y Resort looks to be in the middle of nowhere. It seems there would be no reason anyone would go out of his/her way to go there.
But when you venture by snowmobile into western Wyoming's Salt River Range, it's no wonder many consider it a snowmobiling paradise. And the Box Y represents a centralized area to access a variety of trails and terrain.
Accessible in winter only by snowmobile, the closest town, Alpine, WY, is some 30 miles to the west on a groomed trail. It's hard enough to find the Box Y on a map. No doubt, there are many other resorts that are more notable and recognized. But when it comes to the vast opportunities of western riding, there is no comparison.
The Box Y offers overnight accommodations, food and fuel to facilitate an extended "stay and play" outing where snowmobilers can capitalize on the limited time the short winter season offers. When you start linking the trail systems in western Wyoming and eastern Idaho, you have hundreds of miles providing access to every type of snowmobile terrain imaginable.
Often the best riding is located deep in the heart of the trail system which is usually at the midway point to where you start thinking about saving enough fuel and daylight for the return ride out. A resort like the Box Y allows you to stay and enjoy all that unmarked snow with the luxury of being able to stick around for another couple of days, if desired.
Usually, most snowmobilers have a tendency to think small—drive, park, ride, return home—and confine most of their outings to a day. But last winter we wanted to find somewhere that we could turn the ride into a multi-day experience; where we could travel via snowmobiles, some place along the trail system where part of the pleasure would be in the journey. There would be two of us making the trip, which means there was no room for error. Our snowmobiles had to perform. We had to be self-sufficient on fuel during those long stretches between gas. And we had to know where we were at all times.
Mapping Out Our Course
We mapped out our course, starting our ride from the Bone trail system parking lot some 25 miles east of Idaho Falls, ID, where we would park our truck and trailer.
This was going to be a fun two days on the snow, covering more than 300 miles.
Tim and Cindy Haberberger had invited us to stay at the Box Y for the night. Our goal was to ride from Bone to the Timberline Lodge on the Pinedale side of the Wyoming Range. The Box Y, nestled along the Greys River which separates the Wyoming Range from the Salt River Range, was 90 miles away from Bone and represented the ideal midway point. It represented a location where there would be fuel available (both for our sleds and ourselves). We could play along the way, knowing we could top off our tanks at Alpine.
The Haberbergers operate the Box Y during the winter, catering to snowmobile groups. Tim left his home in Pennsylvania 31 years ago to hunt in Wyoming. At the end of his hunt, he called his wife back home and told her that he had decided to stay. Cindy then packed up her bags and headed West to join him. That's the attraction of Wyoming. No lie.
Peace Of Nature
The Box Y is a place where you can enjoy the beauty of winter, the peace of nature and the hospitality of good people. The resort is self-contained. It has generators for any electrical needs, but mostly operates on propane. The Box Y has nine cabins (7 one-bedroom and 2 two-bedroom cabins) and can handle a group up to 30 people. (The minimum sized group to book out all the cabins is 21.) Although you don't have all the conveniences of modern facilities—no TV, no cell phones—you still have heat, light and hot/cold running water and very comfortable lodging accommodations—rustic but comfortable.
The Haberbergers have leased the Box Y from the Frome family of Afton, WY, for the past 15 years. While catering to snowmobilers in the winter, it's 4-wheelers and off-road motorcyclists in the summer. During the seasons in between, Tim does a lot of hunt guiding. The scenery is awesome and the fishing is great.
For groups who stay at the resort, the Box Y serves family-style breakfasts and dinners. Lunch is available to all visitors (even those who stop in during the day) and can be ordered off a menu. Each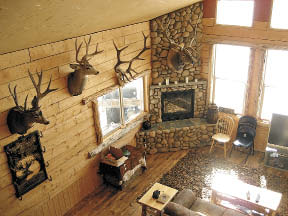 November the resort fills several large capacity storage tanks with high octane fuel for snowmobilers. The resort opens around Dec. 20 and closes near the end of March, depending on snow conditions. It is busiest on Christmas week and throughout February.
The Box Y has a staff of seven (including Tim, Cindy and their daughter Megan). Tim is also the groomer operator. He works three nights a week and grooms over to Merna Junction (the E trail to the Sherman Parking area) and portions of the H trail.
Although there were just two of us making this two-day jaunt, we were still fortunate to pick a date when there was a two-bedroom cabin available. A group from the Salt Lake City area was occupying most of the other facilities. So we just blended in with them for our evening meal and breakfast … no problem.
No Turning Back
We left the Bone parking area on a brisk Thursday morning in February. It had been snowing the night before so we had fresh powder covering a smooth groomed trail. (Bonneville County does a terrific job keeping the eastern Idaho snowmobile trails smooth throughout the winter.)
Our plan was to play our way over to Alpine, only using portions of the trail as quick access to play areas. However, no plan goes without a hitch. Not 30 miles into the 60-mile ride to Alpine, we blew a drive belt on one of the sleds. This wasn't just your simple belt-gone-bad scenario; but rather a total disintegration with parts going everywhere. And it took us about 30 minutes just to clean it out of the clutch.
Although we had an extra one, once you start riding on your spare, you become a little more cautious to where you go … because once the spare blows, it's no go.
Since there was no need to push our luck, we stayed much closer to the trail and took the simplest route the rest of the way to Alpine.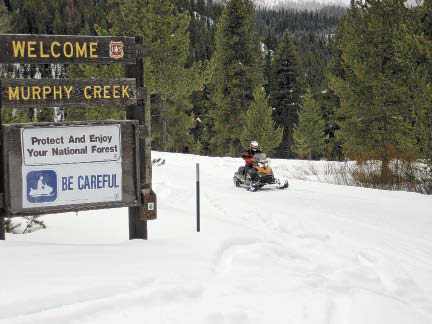 Alpine is a fairly small community (less than 900 residents), so there isn't an Arctic Cat dealership there. However, there is Lincoln County Customs (formerly known as TJ Sports) which tends to have about everything necessary for snowmobilers. Sure enough, they had the right drive belt to keep us going.
Once we were secure with another backup belt, we grabbed a bite to eat before heading down the Greys River (Trail A). About five miles out of Alpine, we jumped off the Greys trail and headed up over the Squaw Creek (Trail C). We only had about 30 miles to go and several hours to get there so we thought we'd take in some playing … no hurry.
Squaw Creek gains a lot of elevation rather quickly and gets you up on a ridge where the mountains open up with some terrific drainages to explore. You can spend an entire week investigating different pockets of open meadows and canyons. This is the northern tip of the Salt Water Range. The farther south you journey, the steeper and more rugged the landscape. If you venture into the steep and deep, you better know what you're doing. That terrain offers no mercy.
Since we were no match for that kind of adventure, we stayed close to Squaw Creek and the trail eventually fed back to Trail A along the Greys River.
It was about 4 p.m. when we finally pulled into the Box Y. After meeting the Haberbergers and the crew at the resort and learning that dinner would be served around 6:30 p.m., we gassed up the sleds and headed up into the Wyoming Range to Blind Bull, a popular snowmobile destination for those who ride out of Pinedale, WY.
We had just enough time to run up to the warming hut, take a few photos and venture down some of the trails, before returning to the Box Y for what would prove to be a real home-cooked feast. In all, we had recorded 133 miles on our odometers and were ready to call it a day.
No Leftovers
We were fortunate to be able to sit around the table with 11 couples from Utah who were on their annual trip to the Box Y. (They decided to try some place different about three years ago and have been coming back ever since.)
The great thing about sitting around the lodge with Tim and Cindy is listening to Tim's hunt guiding stories. He's been around the area for years and offers riveting insights to hunting big game, as well as a good history of the area. He'll even mix in some fun snowmobiling stories.
Eventually, everyone retired to his/her cabin for a quiet night and great expectations of the next day's riding.
Day 2 started with the rise of the sun, the smell of breakfast and finally the sound of snowmobiles warming up for a full day of riding. Tim took the time to guide us over an ungroomed trail through McDougal Gap to the northern end of Trail H. The southern end of this trail starts near the LaBarge Guard Station about 30 miles north of LaBarge, WY. The trail is about 50 miles long and ties into Trail E which comes out of Sherman Parking Lot about 18 miles west of Daniel Junction.
Trail E goes up over Blind Bull and connects to Trail A out of Alpine. Once we reached the junction at Trail E, Tim waved good-bye and headed out for some powder riding while we continued east on Trail E to Sherman.
Our ultimate destination was to reach the Timberline Lodge, a new resort built about seven miles east of Merna Junction. The Timberline is a smaller resort—basically one large lodge that can accommodate a limited group. We wanted to see how accessible the new resort was to the trail system.
No Way
Well, make that no easy way on snowmobile to get from Sherman to Timberline unless you know the area. You have to wind your way across several ridges and valleys. Since there is a maintained snowmobile parking area next to the Timberline, it's likely that there will eventually be a connecting trail over to Trail E. But for this ride, we just sort of meandered northeast until we eventually hooked up with the North Beaver Road that goes to the resort.
Timberline Lodge is owned by Kirby and Melanie Peterson. It caters to only one group of snowmobilers at a time, making it exclusive and private. It's perfect if you don't like crowds, yet want to enjoy a first-rate facility.
Since it was our goal to make it all the way back to Bone, some 112 miles away, there was no time to waste. We topped off our sleds with fuel and headed back to Sherman to pick up Trail E. From there it was up over Blind Bull to connect with Trail A on the Greys River and then on to Alpine.
After a good lunch in Alpine it was back to the McCoy Creek Trail that leads into Idaho's Bonneville County trail system.
Since we were making pretty good time, we could take the luxury of jumping off the trail and taking advantage of all the unmarked snow between Caribou Guard Station and Bone. Besides, this is our back yard. We know all the shortcuts and play areas to our final destination.
We eventually pulled into the Bone parking area just as the sun was starting to set. Our odometers read 167 miles for the day. After loading our sleds and crawling into the cab of the truck, two thoughts were going through our minds—no más … and no regrets.
Contacts
Box Y Resort—(307) 654-7564
Timberline Lodge—(307) 859-8339
Lincoln County
Customs—(307) 654-6637