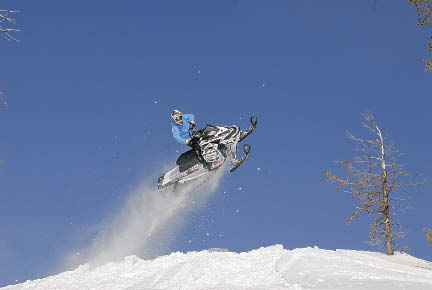 Justin House was the big winner of Ski-Doo's Ultimate Summit Drop Contest last spring, not only earning the opportunity to be the first consumer to ride Ski-Doo's new Summit Freeride but also to take one back to his hometown of Stephenville, Newfoundland.
House, along with the three other Summit Drop finalists, earned an all-expense paid trip to West Yellowstone, MT, last March to ride the Freeride in the backcountry north of town. The other three finalists were Dave Norona, North Vancouver, BC; Greg Dana, Afton, WY; and Rob Hoff (pictured), Alpine, WY.
Those four, along with dozens of others, entered the Ski-Doo contest last winter, where they had to show off their riding skills (through videos) and give a brief description of them and their riding styles. The list of entries was narrowed down to House, Norona, Hoff and Dana, who then went to Florida to Ski-Doo's annual dealer meeting where the dealers voted for the winner. A couple of weeks later the four were all in West Yellowstone for the Freeride session.
They were joined by Scott Grant, House's friend from Newfoundland, and another freerider Dan Treadway, from British Columbia. SnoWest Magazine was also invited along on the trip where we watched the handful of riders jump, launch and shred the snow north of West Yellowstone.
You can see a video of the Freeride session by going to www.ski-doo.com and clicking on the YouTube video about two-thirds of the way down on the home page.