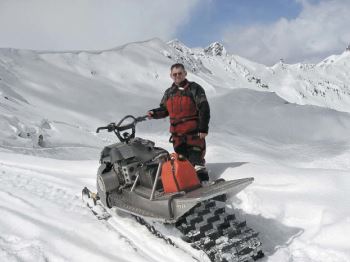 Dale Beamish, an Alberta grain farmer, sent us pictures and details on his pretty unique project sled, a machine he built for mountain riding. It intrigued us enough to cover it in the magazine so others can see it.
Beamish sent a lot of photos with his information, far more than we have room in the magazine to print, so check out www.snowest.com for more pictures.
Beamish said this past winter was his 25th winter of riding the high country, with 14 of those years riding mod Indy Lites with forward rolled chaincases. He mostly rides in Valemount and Blue River but also rides McBride, Golden, Revy, Trout Lake, Sicamous, Pine Pass and Chetwynd as well.
Here's his story:
The concept for the project was to have a sled as short as possible and have a massive footprint.
I started off with building a short tunnel to the geometry for the front suspension, engine, chaincase and Tundra plastic. I built a jig for the skill saw for cutting the tracks and did so with an old track first and it worked great. I built a tunnel 21 inches wide and milled aluminum from an H beam to get some meat for mounting the engine and chaincase. Then I used solid round stock, machined the steps and bored it hollow to press in to the stock Rev engine plate. This allows for a very sturdy engine mount.
From there the modified heat exchangers were added. The skid was built next and had to have 30 idler wheels to make the twin track concept work, 26 on the skid and four on the tunnel. Cutting the tracks next went very well with tracks having consecutive serial numbers (thanks to Curtis from Tracks Canada) so I could tension them with one common axle.
Neil's Power Pipes in Edmonton built and designed the pipe and it works very well. I lost track of how many times the chassis components had been clecoed together and dismantled. Finally, four days before the first testing in Blue River, some friends helped me out by riveting it all together.
Terry at HMP designed and sewed the mesh enclosures for the back of the engine. Having the engine on top of the tunnel allowed me to have a mountain sled 122 inches in overall length, with 174-inch tracks clearing the back of the skis by 1/16 of an inch and not having all of that dead sled between the skis and track like conventional deep snow machines.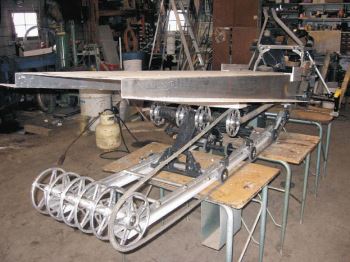 The center of gravity is high, making it not a speed demon on the trail up to the high country. It is very different to ride. It sidehills very easily, turns on a dime and its deep snow crawl-ability is fantastic. The project Tundra Twin Track took me two years and 800 hours of designing and fabrication. I will list some of the components, specs and the upgrades for the 2009/2010 season.