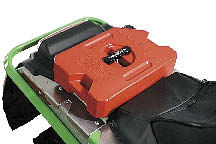 Rotopax Fuel Packs are the original roto-molded fuel packs and the only product on the market guaranteed not to leak. With the Rotopax you can choose from one- or two-gallon gasoline or water packs as well as a two-gallon size storage box. There are new mounting plates for Arctic Cat, Polaris and Ski-Doo sleds or they can mount directly to any sled that does not use the underside of the tunnel for the cooling system.
All Rotopax are stackable. Simply adding a pack mount extension allows carrying of any combination of fuel, water or storage packs. They are also great for use year-round for ATV, UTV, boats, 4x4, trailer, motorcycles, etc.
They are available in red (gasoline), white (water—the water tanks are FDA approved for drinking), yellow (diesel), blue (kerosene), dark red (oil-mixed gas), black (storage) and orange (marked first aid or road plus trail, with or without items inside).
Contact Rotopax (801) 299-1885 or rotopax.com.
The discount coupon code SnoWest saves 15 percent off of your purchase.