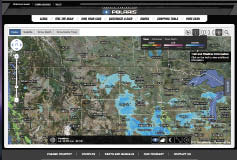 During our recent swing through the Midwest on a sneak peak of the new 2011 snowmobiles from the Big Four, Polaris shared with us a new website the company has been working on.
The website is: http://riders.polarisindustries.com.
Polaris has formed an exclusive partnership with WeatherNation on the website.
Current features include:
North America weather radar
North America snow depth
U.S. trail maps
Polaris dealer locations and contact information
Point-to-point route mapping with GPX Export
Facebook connect
Upcoming additions, which might have already been added between the time we heard about the Polaris website and when this issue went to press:
Weather alerts and avalanche warnings
Gas/food/lodging locations
Mobile site
Route saving and sharing
Versions will be coming soon for Victory motorcycles and off-road vehicles.
What Polaris has done is put information on one website that you used to have to go to several different sites to get. And as for the snow depth readings, they will be updated daily, sometimes even more often.