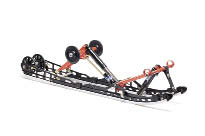 The Alpha X from Holz Racing Products is now available in the popular backcountry extreme 146-inch rail length. The Alpha X Rear Suspension, available for Polaris RMK and Assault models as well as Ski-Doo mountain models, nails the sweet spot to deliver maximum traction and transfer without unwanted wheelies, making it an unmatched skid for climbing and sidehilling.
Based on the proven Holz coil-over rear suspension, the Alpha X introduces new innovations, geometry and technology. The premium shock package features Fox Evol X rear shock and Fox Float front track shock to create the best mountain/deep snow suspension.
The Alpha X is manufactured on the finest CNC-machining center available, followed by unmatched TIG welded construction and finished off with a durable powdercoat and anodized finish. Each kit includes torque arms, bottom scissors, premium shocks, linkage rods, hardware and detailed instructions.
It also features new geometry for optimum traction and weight transfer without wheelies and has unmatched ride quality over mogul-littered terrain. The dual-stage air spring Fox Evol X rear shock allows you to adjust ride height independent from bottoming resistance. You can also externally adjust high and low speed compression and rebound for infinite tuning options.
The Alpha X is available in 146-, 155- and 163-inch lengths. It is available for 2006-2010 Polaris RMK models in 155- and 163-inch lengths or there's also the 146-inch Assault (red or black) and 2008-2010 Ski-Doo Summit XP models (black only).
The Alpha X retails for $2,500.
Contact Holz Racing Products (360) 398-7006 or www.holzracingproducts.com.