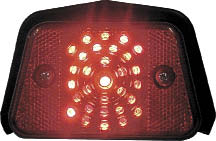 Bluhm Enterprises is offering a new LED taillight insert for Polaris Dragon/CFI/HO snowmobiles.
Bluhm Enterprises developed the LED insert to fit into the stock taillight lens on any current Polaris snowmobile that uses the square taillight. Installation is a snap and requires less than five minutes to replace the stock 1157 bulb. The LED insert puts high power red LEDs across the entire lens of the stock taillight. Two models are available for standard ignition and Clean Fire (CFI) sleds.
The Brite-Lites Polaris LED insert is the best way to keep a totally stock-looking sled with a high output brake light. Features include compact design and simple OEM plug connector. There is no filament to burn out, it uses no power and is twice as bright. Fits seat and tunnel-mounted taillights with the squarer lens (like all Dragons and RMKs). There are two different models available for 2005 to current Polaris snowmobiles—with or without clean fire injection (CFI), electronic fuel injection, PC board with high power LEDs and 1157 connector.
The retail price is $39.99 standard and $49.99 each for CFI sleds.
Contact Bluhm Enterprises (612) 812-5191 or www.britelites.net.